(Rachel Blevins)
As the public searches for answers about why suspected gunman Nikolas Cruz opened fire on his classmates and teachers at a high school in Parkland, Florida, his social media history is making one thing clear—the Federal Bureau of Investigation should have seen the warning signs months ago.

Related Apparently the "Solution" to Mass Shootings Is to Turn Schools Into Prisons
Source
-
The Free Thought Project
by Rachel Blevins, February 15th, 2018
"I'm going to be a professional school shooter," A YouTube user named Nikolas Cruz commented on a video on Sept. 24, 2017. The video was posted on the channel "
Ben The Bondsman
," and the owner, Ben Bennight, immediately took a screenshot and submitted it to the FBI.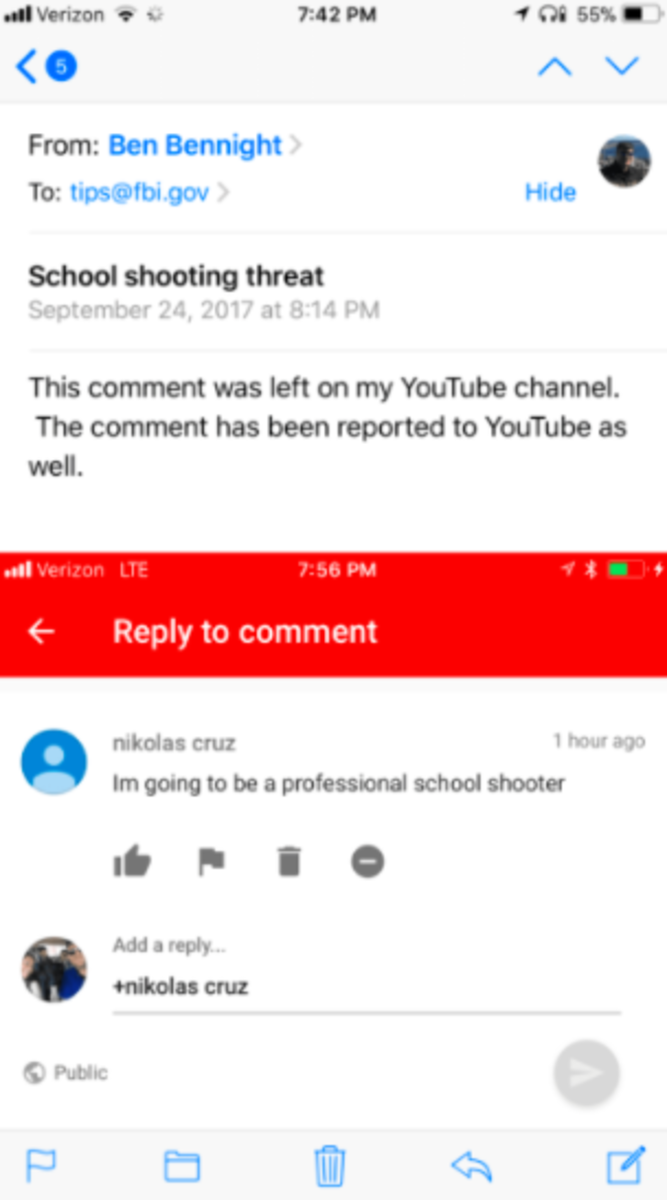 Bennight
told
Buzzfeed News that the bureau was quick to respond, and agents from the Mississippi field office conducted an in-person interview with him the next day.
"They came to my office the next morning and asked me if I knew anything about the person," Bennight said. "I didn't. They took a copy of the screenshot and that was the last I heard from them."
The next time the FBI contacted Bennight was on Wednesday, just 30 minutes after police in Broward County arrested a suspect with the same name as the YouTube user—Nikolas Cruz—for killing 17 people and injuring at least 15.
In a voicemail reported by Buzzfeed, Special Agent Ryan Furr said, "I think we spoke with you in the past about a complaint that you made about someone making a comment on your YouTube channel. I just wanted to follow up with you on that and ask you a question with something that's come up, if you wouldn't mind giving me a ring."
But that one comment was not the only warning. Seven months ago, Cruz
wrote
, "I am going to kill law enforcement one day they go after the good people," in the comments section of a video clip from the NatGeo show "Alaska State Troopers: Armed and Dangerous" that was posted on YouTube.
Then six months ago, he commented on a YouTube video titled, "Antifa Gun Club," writing, "Im going watch them sheep fall f*ck antifa i wish to kill as many as i can."
Cruz's Instagram account also contained questionable content, including a number of photos of him brandishing guns and knives, and showing off small animals and rodents he had killed.
— Molly Grantham WBTV (@MollyGrantham) February 14, 2018
Former classmates have said they were not surprised by the shooting or the fact that Cruz is the suspect. Joshua Charo
told
the Miami Herald that Cruz fit the description of a disgruntled student who would carry out a mass shooting.
"I can't say I was shocked," Charo said. "From past experiences, he seemed like the kind of kid who would do something like this."
John Crescitelli shared the same sentiment, saying his son had warned him about Cruz before. "If you were to pick one person you might predict in the future would shoot up a school or do this, it would be this kid," he said.
Family members of Nikolas Cruz also
claimed
that he has been taking medication for depression and emotional issues for several months. Given the social media posts and comments from the individual who has been described as a "troubled teen," it is becoming clear that the FBI should have seen the warning signs months ago.
The same bureau that cost American taxpayers
more than $9 billion
in 2017, failed to use its unlimited access to invade the privacy of innocent citizens to actually make a difference by thoroughly monitoring the individual who shared his longing to become a "professional school shooter" nearly five months ago. In doing so, the FBI should be held accountable for the reckless role it played in preventing the murder of 17 innocent individuals.
All the police state measures in place—and a warning from the actual shooter—and the US government's unlimited surveillance state did nothing to stop what appears to be an entirely preventable mass shooting.
About the Author
_________________________
Stillness in the Storm Editor's note: Did you find a spelling error or grammar mistake? Do you think this article needs a correction or update? Or do you just have some feedback? Send us an email at sitsshow@gmail.com with the error, headline and url.
Thank you for reading.
________________________________________________________________
Sign-up for RSS Updates:
Subscribe in a reader
Question

-- What is the goal of this website? Why do we share different sources of information that sometimes conflicts or might even be considered disinformation?
Answer

-- The primary goal of Stillness in the Storm is to help all people become better truth-seekers in a real-time boots-on-the-ground fashion. This is for the purpose of learning to think critically, discovering the truth from within—not just believing things blindly because it came from an "authority" or credible source.
Instead of telling you what the truth is, we share information from many sources so that you can discern it for yourself. We focus on teaching you the tools to become your own authority on the truth, gaining self-mastery, sovereignty, and freedom in the process. We want each of you to become your own leaders and masters of personal discernment, and as such, all information should be vetted, analyzed and discerned at a personal level. We also encourage you to discuss your thoughts in the comments section of this site to engage in a group discernment process.
"It is the mark of an educated mind to be able to entertain a thought without accepting it." – Aristotle
The opinions expressed in this article do not necessarily reflect the views of Stillness in the Storm, the authors who contribute to it, or those who follow it.
View and Share our Images.
Curious about Stillness in the Storm?
See our About this blog - Contact Us page.
If it was not for the gallant support of readers, we could not devote so much energy into
continuing this blog. We greatly appreciate any support you provide!
We hope you benefit from this not-for-profit site
It takes hours of work every day to maintain, write, edit, research, illustrate and publish this blog.
We have been greatly
empowered
by our search for the truth, and the work of other researchers. We hope our efforts
to give
back, with this website, helps others in gaining
knowledge, liberation and empowerment.
"There are only two mistakes one can make along the road to truth;
not going all the way, and not starting." — Buddha
If you find our work of value, consider making a Contribution.
This website is supported by readers like you.
[Click on Image below to Contribute]