(Elizabeth Gail)
The U.S. Navy has in the past cooperated with an alien race to develop technology that can be used to defend the planet against invasions from reptilian alien attacks.

Related
Will Antarctic German Space Program Reveal Itself & Release Advanced Technologies?
Source
-
ExoNews
by Elizabeth Gail, January 28, 2018
• William Tompkins, 2015 book Selected by Extraterrestrials is sadly, his last book as Tompkins died in August of 2017. But his book tells of a life that began with debriefing American spies embedded in Germany for the Navy in San Diego as a teenager during WWII. After the war ended Tompkins became an influential aerospace engineer with Douglas Aircraft , designing spacecraft for the US Navy's secret space program, "Solar Warden", including a 2.5km spacecraft carrier and a 1.4km spacecraft battle cruiser.
• The Navy spies brought back stories of the Nazis working with an extraterrestrial race of Reptilians showing the Germans how to build anti-gravity spacecraft. According to Tompkins' book, Reptilian aliens have attacked numerous planets, colonizing and enslaving its inhabitants. The US Navy countered by allying with a Nordic-looking extraterrestrial race to build its own secret space fleet during the 1970's, and deployed the Solar Warden fleet in the 1980's.
• [Editor's Note] To learn all about William Tompkins, do read Selected By Extraterrestrials. But keep in mind that was written by a 92 year old man who hadn't written anything for a long time. For instance, when he refers to Admiral Rick Obotta, he means Admiral Rico Botta. For excellent analysis of Tompkin's work, read the wealth of
ExoPolitics.org articles
by Dr Michael Salla, and also the 2017 book by Dr Salla on this very topic entitled The US Navy's Secret Space Program & Nordic Extraterrestrial Alliance.
A teenage Bill Tompkins
The U.S. Navy has in the past cooperated with an alien race to develop technology that can be used to defend the planet against invasions from reptilian alien attacks. This is according to claims made by William Tompkins, a U.S.-based writer, in his book Selected by Extraterrestrials. Having worked for the Navy as an aircraft designer during the '50s and '60s, he apparently had access to highly classified information and bases that offered sufficient evidence of the existence of an alien race that provided technological knowledge to the human race.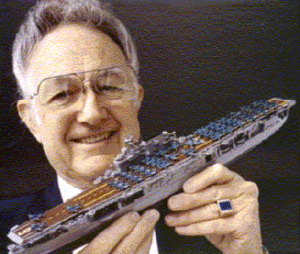 William Tompkins
He was reportedly based at the San Diego's Naval Air Station, and was during WW2 in contact with Nazi Germany's moles who worked in top secret aerospace facilities. According to the book, U.S. spies in Germany discovered that the Germans had received sufficient info on how to create antigravity aircraft, beam weapons, and more from reptilian aliens. They apparently gave him this information so he could conquer the world.
Reptilian aliens, according to the book, attack numerous planets and aim to disrupt planetary life, colonize, and enslave its inhabitants. Meanwhile, another alien race, he dubs "The Nordics," worked with the U.S. to counter their rivals' advances. His book features sketches of spacecraft he designed. He personally came up with designs for five spaceships and dozens of support ships that were created to fend off invading lizard aliens.
They include a 2.5km Naval Spacecraft Carrier and a 1.4km Naval Spacecraft Battle Cruiser. The aforementioned ships were built decades later in the 1980s, but construction began in the '70s. According to his revelation, the project was under a highly classified program called Solar Warden. Apparently, wars with reptilian aliens were, and still are, very short-lived and The Nordics had similar ships and equipment as the ones built for the Navy. They were also involved in wars to protect our planet.
William apparently worked for the Douglas Aircraft Company for 12 years and joined the company in 1951. Douglas Aircraft had been contracted by the government to undertake various projects for the Navy. It was while there that he supposedly worked with The Nordics to create antigravity aircraft. Tompkins' descriptive evidence has had conspiracy theorists citing it as additional evidence that the U.S. government has been involved in a cover-up involving the existence of aliens, as reported by the Daily Star (August 29, 2016).
_________________________
Stillness in the Storm Editor's note: Did you find a spelling error or grammar mistake? Do you think this article needs a correction or update? Or do you just have some feedback? Send us an email at sitsshow@gmail.com with the error, headline and url.
Thank you for reading.
________________________________________________________________
Sign-up for RSS Updates:
Subscribe in a reader
Question

-- What is the goal of this website? Why do we share different sources of information that sometimes conflicts or might even be considered disinformation?
Answer

-- The primary goal of Stillness in the Storm is to help all people become better truth-seekers in a real-time boots-on-the-ground fashion. This is for the purpose of learning to think critically, discovering the truth from within—not just believing things blindly because it came from an "authority" or credible source.
Instead of telling you what the truth is, we share information from many sources so that you can discern it for yourself. We focus on teaching you the tools to become your own authority on the truth, gaining self-mastery, sovereignty, and freedom in the process. We want each of you to become your own leaders and masters of personal discernment, and as such, all information should be vetted, analyzed and discerned at a personal level. We also encourage you to discuss your thoughts in the comments section of this site to engage in a group discernment process.
"It is the mark of an educated mind to be able to entertain a thought without accepting it." – Aristotle
The opinions expressed in this article do not necessarily reflect the views of Stillness in the Storm, the authors who contribute to it, or those who follow it.
View and Share our Images.
Curious about Stillness in the Storm?
See our About this blog - Contact Us page.
If it was not for the gallant support of readers, we could not devote so much energy into
continuing this blog. We greatly appreciate any support you provide!
We hope you benefit from this not-for-profit site
It takes hours of work every day to maintain, write, edit, research, illustrate and publish this blog.
We have been greatly
empowered
by our search for the truth, and the work of other researchers. We hope our efforts
to give
back, with this website, helps others in gaining
knowledge, liberation and empowerment.
"There are only two mistakes one can make along the road to truth;
not going all the way, and not starting." — Buddha
If you find our work of value, consider making a Contribution.
This website is supported by readers like you.
[Click on Image below to Contribute]