(Matt Agorist)
On December 14, 2012, the world watched the news with horror as they heard the story of 20-year-old Adam Lanza fatally shooting 20 children between six and seven years old, as well as six staff members at Sandy Hook Elementary School. Since that fateful day, conspiracy theories have abounded from whether or not the shooting actually took place to what Lanza's motive was.
Related 33 Unanswered Questions About Sandy Hook -- Unsolved Mysteries Endure
Source - The Free Thought Project
by Matt Agorist, October 24th, 2017
Adam Lanza is believed to have shot his mother, Nancy Lanza, in the head at her home in Newtown, Connecticut, around 9 a.m. on December 14, before taking her car and driving approximately five miles to the Sandy Hook Elementary School, where he would slaughter the children and teachers.
According to reports, most of the shooting occurred in two of the school's first-grade classrooms; 14 students in one classroom, and six in the other, were murdered. Only two of the victims who were shot by Lanza—both teachers—survived the attack.
Now, the documents which could lay to rest many of these conspiracy theories have been released by the FBI. At 10:00 AM EST, on Tuesday, the FBI, without any notice, took to Twitter to post the link to over 1,500 pages of documents from their investigation and subsequent findings.
— FBI Records Vault (@FBIRecordsVault) October 24, 2017
"In general, the FBI does not comment on the content of the files released through [Freedom of Information Act], and lets the information contained in the files speak for itself," said Charles Grady, a community outreach specialist for the FBI based in New Haven. "This is a routine FOIA release nothing more, nothing less."
While we would expect that the names, addresses, and contact information be redacted throughout the documents, it appears that entire pages were wiped out.
Just as Americans thought they may be getting some answers as to why this 20-year-old went on a shooting rampage, killing innocent children, it appears we may now have more questions than answers.
One such question that arises from our brief combing of the documents is how Lanza, who only weighed 85 lbs, according to the report, was able to carry such heavy weaponry and ammo and shoot with such deadly accuracy.
According to police, Lanza had in his possession, a Bushmaster XM15 .223 caliber rifle, a Glock 10mm handgun and was also in possession of a loaded 9mm Sig Sauer P226 handgun. After he'd already fired 154 rounds, Lanza also had more ammunition for the weapons he had on his person as well as three 30-round magazines for the Bushmaster, each of them containing 30 rounds.
Lanza was carrying weapons which nearly weighed more than he did.
Also, as the NY Daily News just reported, according to portions of the documents, Lanza was also visited by federal agents before the shooting—who offered him a job.
The FBI documents reveal a visit to the home he shared with his mother by federal agents after he hacked into a government computer.
"The authorities told her that if her son was that smart, he could have a job with them someday,"according to one of the heavily-redacted reports, as reported by the
NY Daily News.
As the News reports, Lanza, at that point in the ninth grade, landed on investigator's radar after hacking his way into an unidentified agency's computer. The teen made it through two levels of security before his efforts were thwarted, the documents showed.
"Nancy had to convince the authorities that her son was just very intelligent and was challenging himself to see if he could hack (his way in)," the report said of Lanza's mother.
This revelation about Lanza being visited by federal agents several years before the shooting, leads to so many more questions and opens the floodgates for more conspiracy theories.
Another question on the minds of Americans is why this 20-year-old kid, with no history of violent behavior, would ever do such a thing. Investigators even noted in their reports that Lanza was never violent, but often required special tools to avoid hurting himself by accident.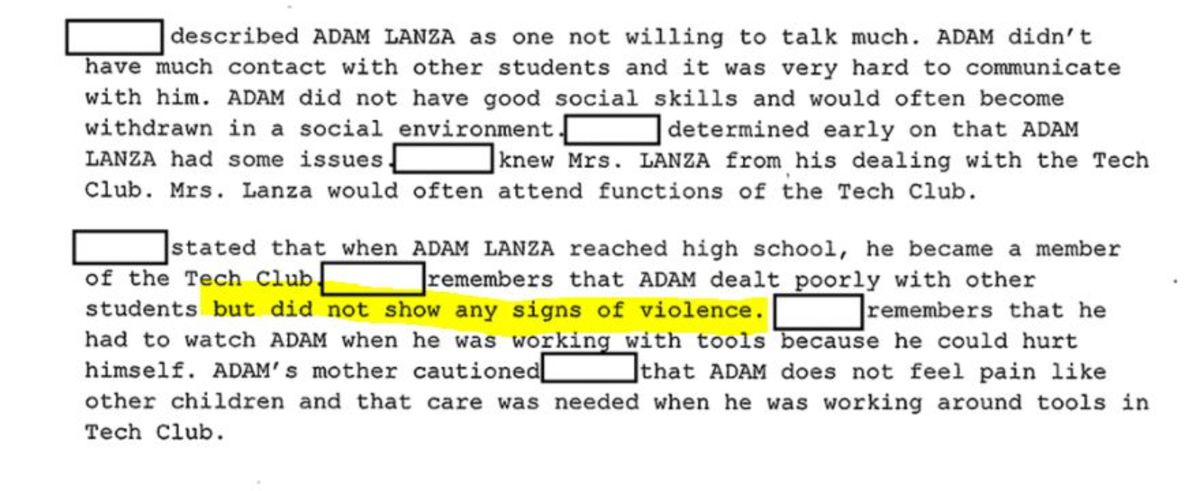 To this day, Americans are still asking themselves why anyone would do such a thing. Nearly five years later, and we still have no motive and no clear cause as to what made this person snap.
The Free Thought Project will continue to dig into the heavily redacted documents and we will issue updates as appropriate.
To read through the reports, click on the three links below:
FBI releases Sandy Hook investigation documents, part 1
FBI releases Sandy Hook investigation documents, part 2
FBI releases Sandy Hook investigation documents, part 3
About The Author

Matt Agorist
Matt Agorist is an honorably discharged veteran of the USMC and former intelligence operator directly tasked by the NSA. This prior experience gives him unique insight into the world of government corruption and the American police state. Agorist has been an independent journalist for over a decade and has been featured on mainstream networks around the world. Agorist is also the Editor at Large at the Free Thought Project. Follow @MattAgorist on Twitter, Steemit, and now on Facebook.
_________________________
Stillness in the Storm Editor's note: Did you find a spelling error or grammar mistake? Do you think this article needs a correction or update? Or do you just have some feedback? Send us an email at sitsshow@gmail.com with the error, headline and url.
Thank you for reading.
________________________________________________________________
Sign-up for RSS Updates:
Subscribe in a reader
Question

-- What is the goal of this website? Why do we share different sources of information that sometimes conflicts or might even be considered disinformation?
Answer

-- The primary goal of Stillness in the Storm is to help all people become better truth-seekers in a real-time boots-on-the-ground fashion. This is for the purpose of learning to think critically, discovering the truth from within—not just believing things blindly because it came from an "authority" or credible source.
Instead of telling you what the truth is, we share information from many sources so that you can discern it for yourself. We focus on teaching you the tools to become your own authority on the truth, gaining self-mastery, sovereignty, and freedom in the process. We want each of you to become your own leaders and masters of personal discernment, and as such, all information should be vetted, analyzed and discerned at a personal level. We also encourage you to discuss your thoughts in the comments section of this site to engage in a group discernment process.
"It is the mark of an educated mind to be able to entertain a thought without accepting it." – Aristotle
The opinions expressed in this article do not necessarily reflect the views of Stillness in the Storm, the authors who contribute to it, or those who follow it.
View and Share our Images.
Curious about Stillness in the Storm?
See our About this blog - Contact Us page.
If it was not for the gallant support of readers, we could not devote so much energy into
continuing this blog. We greatly appreciate any support you provide!
We hope you benefit from this not-for-profit site
It takes hours of work every day to maintain, write, edit, research, illustrate and publish this blog.
We have been greatly
empowered
by our search for the truth, and the work of other researchers. We hope our efforts
to give
back, with this website, helps others in gaining
knowledge, liberation and empowerment.
"There are only two mistakes one can make along the road to truth;
not going all the way, and not starting." — Buddha
If you find our work of value, consider making a Contribution.
This website is supported by readers like you.
[Click on Image below to Contribute]