Source - Discerning the Mystery
by Shem El-Jamal, January 31, 2017
It has become very interesting in recent episodes to see how many well-known insiders have had similar experiences with those we've heard in past testimonies. When we add knowledgeable newcomers to the equation things become even more interesting.
This episode of Cosmic Disclosure brought the testimony of one individual whom I had never before heard of until now. However, what she had to share adds to the knowledge base of the series in a way that many may not have seen coming. Heather Sartain is the daughter of the late Edward Glen Sartain—a high-ranking military official who worked for Lockheed Martin. This is one of many details that reveal Sartain's exceptionally unique background.
Aside from the usual rigor of growing up as the child of a high-ranking official, Heather was exposed to numerous sensitive data which very few if any civilians were privy to at the time. According to her testimony, she has seen and heard things that many of us have only dreamed of or seen distorted representations of in passing. The overall scope of Sartain's experience seems to compliment the flow of the series in remarkable ways.
* * * * *

Lifting the Military Industrial Curtain with Heather Sartain
David Wilcock
: Okay, welcome to "
Cosmic Disclosure
". I'm your host,
David Wilcock
, and we are here with Corey Goode. And we have a special insider for you, someone who has bravely come forward and is bringing us a lot of interesting corroborating information. Her name is Heather Sartain.
So, Heather, welcome to the show.
Heather Sartain
: Thank you.
David
: All right. And Corey, welcome back, buddy.
Corey Goode
: Thank you.
David
: So, Heather, let's just hit the ground running here. Since the viewer might not know anything about you, I'll just say that you came up to me at a conference and told me that your father worked for Lockheed Martin.
Cosmic Disclosure with David Wilcock and Corey Goode - Validating the History of the Secret Space Programs - With Dr. Bob Wood
Heather
: That's correct.
David
: And that there was a lot of very interesting stuff that he said that fit very nicely with what I've already been talking about.
Heather
: Yes, that's true.
David
: Okay, so could you just briefly tell us a little about yourself now. I know that you're a college professor, but what is your specialty in your work as a college professor?
Heather
: I teach part time at a local university, and I teach geology and astronomy and physics courses. My background is in physics and geology.
David
: Okay. So Heather, I wanted to start out by explaining that you handed me some very interesting documentation here, the first one being your father's Texas driver's license.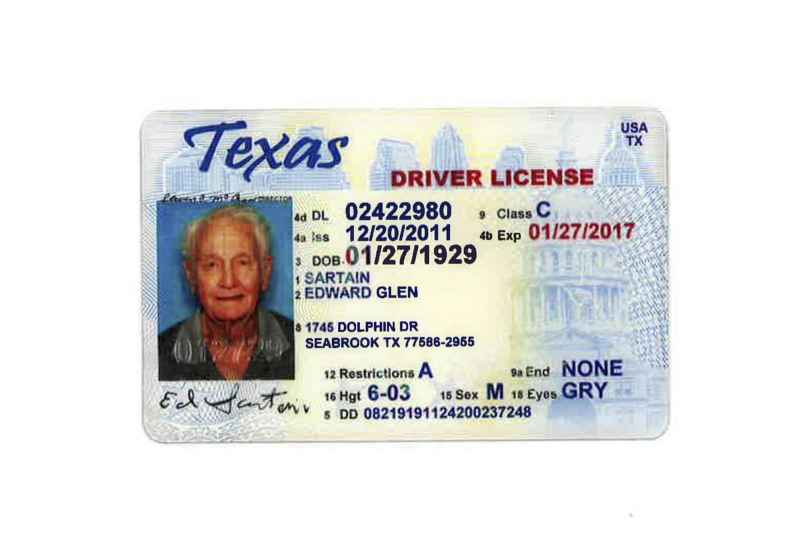 Heather
: Yes.
David
: And so we see that his name was Edward. It's very clearly real. It says it expires on January 27, 2017. And when did he pass away?
Heather: In July of 2013.
David
: July 2013. And the next thing that I have here is, it says, "Lockheed Martin Corporation Master Retirement Trust". It's a check made out to your mother for $2,103.75.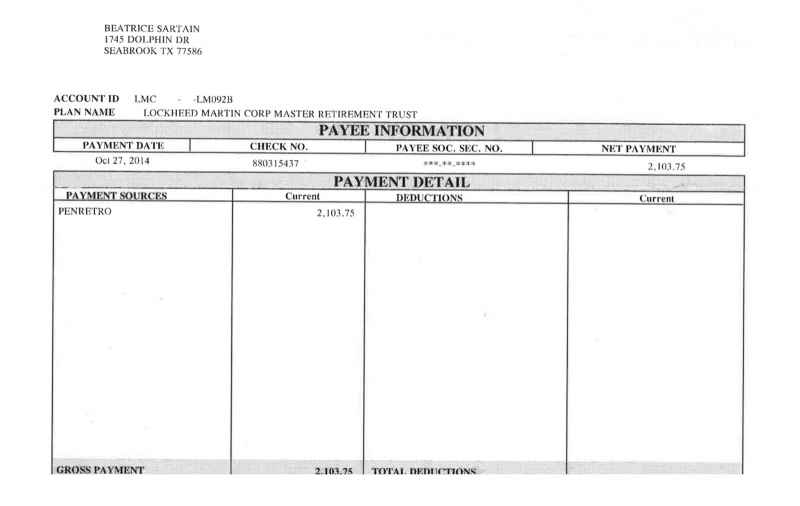 And it says, "Lockheed Martin" right on here. And this is his retirement or pension or something?
Heather
: Yeah, she receives half of his retirement after he's passed on.
David
: Okay. So I just wanted to bring that up to confirm to you watching this that a lot of UFO researchers they really want to see the documentation. And you've been able to provide us with proof that your father did work at Lockheed Martin.
Heather
: Yes.
David
: You grew up with your father having been in the Air Force, you said, originally?
Heather
: Yeah, he was in the Air Force first of all, and then later he worked for NASA through different contractors.
David
: Okay.
Heather
: And he retired from Lockheed. And he was an aerospace engineer, a senior aerospace engineer for 37 years, working on top secret projects for NASA, as well as Space Shuttle mission and all the way back to Skylab and Apollo missions.
So his career covers several decades.
Dr. Michael Salla - Partial Disclosure and Competing Secret Space Programs with Corey Goode
David
: So, Corey, I remember that when you were brought up to the LOC, and you had the NASA hat on, they told you, "Take off that ridiculous cover".
Corey
: Right.
David
: Does NASA have any inside knowledge at all? Or are they just a civilian space agency?
Corey
: There are individuals inside of NASA that have closer to the full scope of information, but most of them that have been briefed or know about a Secret Space Program, only know about the one the Military-Industrial Complex has created.
The last I heard, it was two space stations and a number of triangular craft that service them.
CONTINUE READING @ discerningthemystery2000plus.blogspot.com
_________________________
Stillness in the Storm Editor's note: Did you find a spelling error or grammar mistake? Do you think this article needs a correction or update? Or do you just have some feedback? Send us an email at sitsshow@gmail.com.
Thank you for reading.
________________________________________________________________
Sign-up for RSS Updates:
Subscribe in a reader
Question

-- What is the goal of this website? Why do we share different sources of information that sometimes conflicts or might even be considered disinformation?
Answer

-- The primary goal of Stillness in the Storm is to help all people become better truth-seekers in a real-time boots-on-the-ground fashion. This is for the purpose of learning to think critically, discovering the truth from within—not just believing things blindly because it came from an "authority" or credible source.
Instead of telling you what the truth is, we share information from many sources so that you can discern it for yourself. We focus on teaching you the tools to become your own authority on the truth, gaining self-mastery, sovereignty, and freedom in the process. We want each of you to become your own leaders and masters of personal discernment, and as such, all information should be vetted, analyzed and discerned at a personal level. We also encourage you to discuss your thoughts in the comments section of this site to engage in a group discernment process.
"It is the mark of an educated mind to be able to entertain a thought without accepting it." – Aristotle
The opinions expressed in this article do not necessarily reflect the views of Stillness in the Storm, the authors who contribute to it, or those who follow it.
View and Share our Images.
Curious about Stillness in the Storm?
See our About this blog - Contact Us page.
If it was not for the gallant support of readers, we could not devote so much energy into
continuing this blog. We greatly appreciate any support you provide!
We hope you benefit from this not-for-profit site
It takes hours of work every day to maintain, write, edit, research, illustrate and publish this blog.
We have been greatly
empowered
by our search for the truth, and the work of other researchers. We hope our efforts
to give
back, with this website, helps others in gaining
knowledge, liberation and empowerment.
"There are only two mistakes one can make along the road to truth;
not going all the way, and not starting." — Buddha
If you find our work of value, consider making a Contribution.
This website is supported by readers like you.
[Click on Image below to Contribute]