(Dr. Michael Salla)
According to Secret Space Program whistleblower, Corey Goode, preparations have been underway since 2002 to publicly announce the discovery of a flash frozen civilization in Antarctica. Goode's
startling claim
has received support from internet data mining expert, Cliff High, who, in
a January 2017
report, refers to an economic boom caused by an Antarctica announcement in the next year or so.
Related Visit to Antarctica Confirms Discovery of Flash Frozen Alien Civilization
Source - Exopolitics
by Dr. Michael Salla, January 31st, 2017
Goode and High's information leads to the intriguing possibility that President Donald Trump will authorize a major announcement about an Antarctica discovery in order to rejuvenate America's manufacturing industry.
Related Clif High on David Wilcock, Benjamin Fulford and Drake
On December 11, 2016,
Goode revealed
that he had learned about a major excavation underway in Antarctica of a flash frozen civilization that was technologically highly advanced, and involved extraterrestrial life. He said that since 2002, teams of scientists and archeologists have been excavating the ruins which are buried under two miles of ice.
Critically, in early January 2017,
Goode says
he was taken to Antarctica to see the ruins for himself by an Inner Earth civilization he calls the "Anshar". Goode said that bodies and artifacts that are extraterrestrial in origin were being removed and replaced by terrestrial objects from warehouses secretly located elsewhere around the planet. The goal appears to be one of both sanitizing the area of any extraterrestrial evidence, while seeding artifacts that steer scientific analysis towards a desired agenda.
Circumstantial support for Goode's claim of a major Antarctica discovery being excavated comes from a series of recent VIP visitors to Antarctica in 2016. The list includes then US Secretary of State John Kerry, Apollo Astronaut Buzz Aldrin, Russian Orthodox Church Patriarch Kirill, and Australia's Governor General, Sir Peter Cosgrove.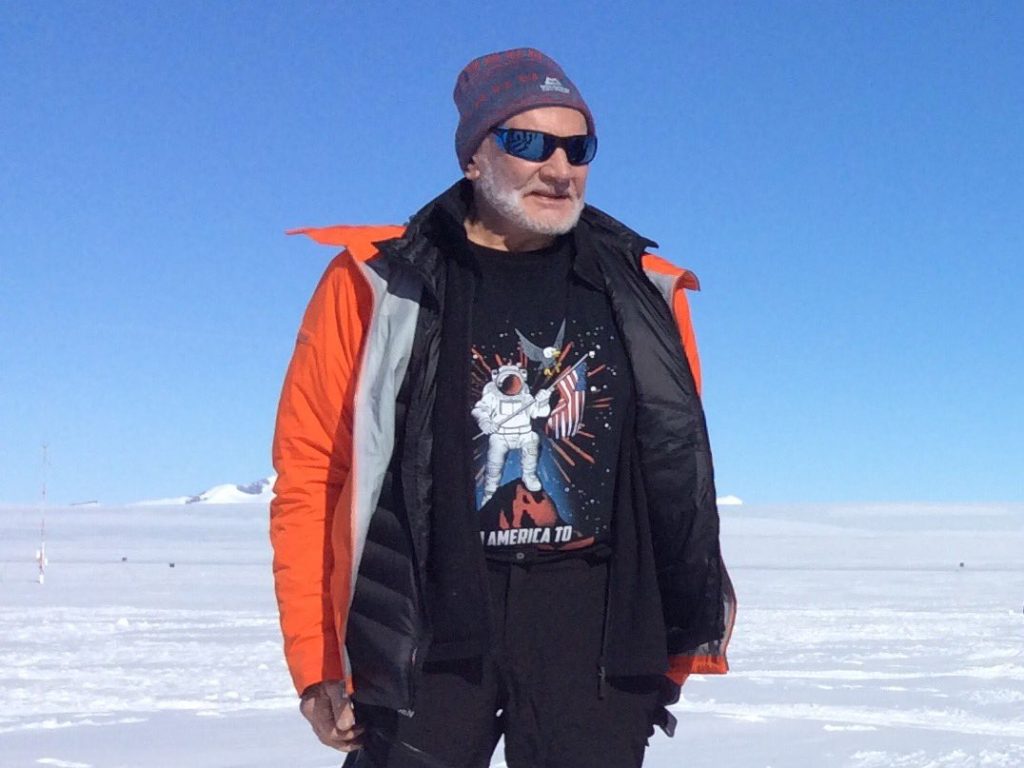 Buzz Aldrin in Antarctica
There have also been visits to locations near Antarctica by former presidents Barack Obama who traveled to Bariloche, Argentina, and Bill Clinton who visited Christchurch, New Zealand.
In prior years,
other VIP visitors
included Prince Harry of Great Britain (2013) and King Juan Carlos of Spain (2004).
Goode's startling claims are further supported by Cliff High's January report examining recent internet trends. High describes his research method as the art of predictive linguistics which he explains
as follows
:
Predictive Linguistics is the process of using computer software to aggregate vast amounts of written text from the internet by categories delineated by emotional content of the words and using the result to make forecasts based on the emotional 'tone' changes within the larger population. A form of 'collective sub-conscious expression' is a good way to think of it. Predictive linguistics can be used to forecast trends at many different levels, from the detail of sales to individuals, all the way up to forecasts about emerging global population trends.
High issues monthly reports called "Asymmetric Linguistic Trends Analysis Intelligence Report." In his
January 2017 Report
titled "Sci-fi World" he had some very significant things to say about the global impact of a discovery in Antarctica:
The new data sets have 'The (Antarctica) Discovery' providing more than 'new technologies' and 'economic boom period'… There is some suggestion from the data that a 'hoard' or 'trove' of 'knowledge' discovered is going to 'transform humanity' over these next '4'/four decades (and beyond)'…
Given Trump's desire to revitalize the US manufacturing industry, it can be predicted that he would jump at the chance to roll out the Antarctica discovery during his administration once he is briefed about it. This is consistent with High's reference to an "economic boom period" and the release of technologies that will "transform humanity."
High
goes on to describe
an ongoing debate over how much and when to release information about the Antarctica discovery:
CONTINUE READING @ exopolitics.org
[I left this comment on this article on Dr. Salla's website:

I found High's commentary refreshingly skeptical, yet prejudicial in some capacities. His complaints about Wilcock confirming his biases during research were interesting, but I wonder if this is speculation he is claiming as fact. Whether or not High has direct knowledge to support the conclusion that Wilcock doesn't do thorough research is unclear. But High, himself, appears to be prejudging Wilcock and others, based on his ideological statements shared in the interview.

High didn't provide raw data to support his claims. In addition, he admitted to adhering to his fathers closeminded idealogy—"the world is a messed up place, anyone saying otherwise is full of BS or trying to sell you something." This suggests that even if High discovered data that implied a positive awakening was happening, he would likely discount it. Furthermore, High's data set is limited to written statements online, and as such, the total breadth of factors available to make good predictions is limited—although obviously replete enough to make some good ones. Finally, the picture painted by the webbots is somewhat myopic, not to say that it doesn't have value, it just can't be the only source for understanding what is happening on Earth.

In short, High's views are good to consider, as they help expand one's own perspectives, but I think it would be short sighted to assume he has access to complete accurate future prediction software—which some people think he does. Not that I am implying Dr. Salla has asserted High should be blindly trusted.

I found the interview refreshing and despite the fact I didn't agree with his assessments of some things, it improved my own comprehension nicely. Proof of concept for the idea that diverse research approaches is the best for gaining greater clarity of the truths we've come to understand.]
Books by Dr. Michael Salla:
Related Antarctica 'Mysterious Structure Discovered' & 'Massive Iceberg To Break Away'
_________________________
Stillness in the Storm Editor's note: Did you find a spelling error or grammar mistake? Do you think this article needs a correction or update? Or do you just have some feedback? Send us an email at sitsshow@gmail.com.
Thank you for reading.
________________________________________________________________
Sign-up for RSS Updates:
Subscribe in a reader
Question

-- What is the goal of this website? Why do we share different sources of information that sometimes conflicts or might even be considered disinformation?
Answer

-- The primary goal of Stillness in the Storm is to help all people become better truth-seekers in a real-time boots-on-the-ground fashion. This is for the purpose of learning to think critically, discovering the truth from within—not just believing things blindly because it came from an "authority" or credible source.
Instead of telling you what the truth is, we share information from many sources so that you can discern it for yourself. We focus on teaching you the tools to become your own authority on the truth, gaining self-mastery, sovereignty, and freedom in the process. We want each of you to become your own leaders and masters of personal discernment, and as such, all information should be vetted, analyzed and discerned at a personal level. We also encourage you to discuss your thoughts in the comments section of this site to engage in a group discernment process.
"It is the mark of an educated mind to be able to entertain a thought without accepting it." – Aristotle
The opinions expressed in this article do not necessarily reflect the views of Stillness in the Storm, the authors who contribute to it, or those who follow it.
View and Share our Images.
Curious about Stillness in the Storm?
See our About this blog - Contact Us page.
If it was not for the gallant support of readers, we could not devote so much energy into
continuing this blog. We greatly appreciate any support you provide!
We hope you benefit from this not-for-profit site
It takes hours of work every day to maintain, write, edit, research, illustrate and publish this blog.
We have been greatly
empowered
by our search for the truth, and the work of other researchers. We hope our efforts
to give
back, with this website, helps others in gaining
knowledge, liberation and empowerment.
"There are only two mistakes one can make along the road to truth;
not going all the way, and not starting." — Buddha
If you find our work of value, consider making a Contribution.
This website is supported by readers like you.
[Click on Image below to Contribute]
Save
Save