(Dr. Michael Salla)
In his inauguration speech challenging the vested interests that control political life in Washington D.C., President Donald Trump spoke of a future where humanity has full access to the kind of advanced technologies allegedly used in secret space programs. Trump appeared to be hinting at the benefits official disclosure of these programs would bring to the U.S and the world, and that he was going to challenge the vested interests hiding these.
Related Competing Secret Space Programs Disclosure, Will Trump Do it?
Source - Exopolitics
by Dr. Michael Salla, January 21st, 2017
Back in December 2016,
he had told
presidential historian Douglas Brinkley that he planned to write a short speech himself. Later, Trump tweeted a picture of himself working on his speech alone, thereby indicating that its content would be his own creation.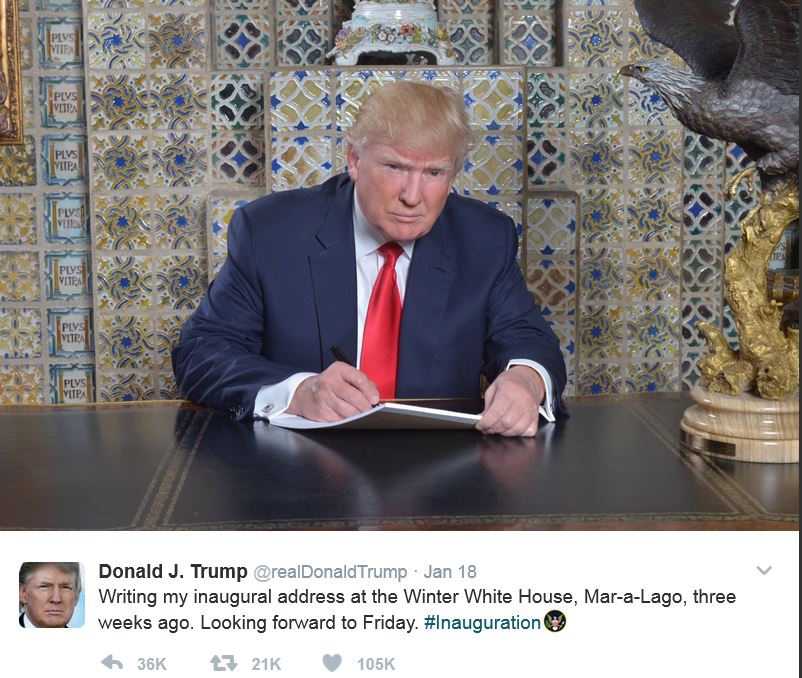 It is highly likely that Trump's speech writers would have polished his words, and added a few rhetorical flourishes to accentuate whatever points he wanted to make in the various drafts leading to the final product. Nevertheless the contents of his Inauguration Speech reveal much of what Trump really thinks about the future and hopes to achieve during his presidency.
Early in his speech,
Trump was clear
that Washington politics only benefited a small wealthy elite rather than the entire population:
For too long, a small group in our nation's capital has reaped the rewards of government while the people have borne the cost. Washington flourished, but the people did not share in its wealth. Politicians prospered, but the jobs left and the factories closed. The establishment protected itself, but not the citizens of our country. Their victories have not been your victories. Their triumphs have not been your triumphs. And while they celebrated in our nation's capital, there was little to celebrate for struggling families all across our land.
Trump affirmed his campaign pledge to revitalize American manufacturing industry and bringing high paying jobs back. He
stated his opposition
to Free Trade deals which have led to many U.S. corporations taking their manufacturing plants out of the U.S., and shipping their cheaply made foreign products back at a huge profit for a small group benefited by powerful Washington DC., lobbyists:
One by one, the factories shuttered and left our shores, with not even a thought about the millions and millions of American workers that were left behind. The wealth of our middle class has been ripped from their homes and then redistributed all across the world.
Towards the end of his speech, Trump uttered one sentence that contained his most developed vision of the future for America and its citizenry.
He said
:
We stand at the birth of a new millennium, ready to unlock the mysteries of space, to free the earth from the miseries of disease, and to harness the energies, industries and technologies of tomorrow.
Trump's use of the phrase "unlock the mysteries of space" may be just a rhetorical flourish to show his determination to rejuvenate the NASA space program and to assist the growing commercial space industry. Alternatively, it is a hint that he is aware that there is much more happening in space than the public have been informed about.
His use of the word "unlock" suggests that these mysteries are kept hidden in highly classified programs, and he now holds the keys to them. In that sense, he is sending the message that as the President and Commander in Chief, he holds all the keys and intends to use them to further his vision of the future. Once again, he was signaling his intent of confronting the "small group" hidden in Washington that benefit from keeping secrets from the public.
CONTINUE READING @ exopolitics.org
_________________________
Stillness in the Storm Editor's note: Did you find a spelling error or grammar mistake? Do you think this article needs a correction or update? Or do you just have some feedback? Send us an email at sitsshow@gmail.com.
Thank you for reading.
________________________________________________________________
Sign-up for RSS Updates:
Subscribe in a reader
Question

-- What is the goal of this website? Why do we share different sources of information that sometimes conflicts or might even be considered disinformation?
Answer

-- The primary goal of Stillness in the Storm is to help all people become better truth-seekers in a real-time boots-on-the-ground fashion. This is for the purpose of learning to think critically, discovering the truth from within—not just believing things blindly because it came from an "authority" or credible source.
Instead of telling you what the truth is, we share information from many sources so that you can discern it for yourself. We focus on teaching you the tools to become your own authority on the truth, gaining self-mastery, sovereignty, and freedom in the process. We want each of you to become your own leaders and masters of personal discernment, and as such, all information should be vetted, analyzed and discerned at a personal level. We also encourage you to discuss your thoughts in the comments section of this site to engage in a group discernment process.
"It is the mark of an educated mind to be able to entertain a thought without accepting it." – Aristotle
The opinions expressed in this article do not necessarily reflect the views Stillness in the Storm, the authors who contribute to it, or those who follow it.
View and Share our Images.
Curious about Stillness in the Storm?
See our About this blog - Contact Us page.
If it was not for the gallant support of readers, we could not devote so much energy into
continuing this blog. We greatly appreciate any support you provide!
We hope you benefit from this not-for-profit site
It takes hours of work every day to maintain, write, edit, research, illustrate and publish this blog.
We have been greatly
empowered
by our search for the truth, and the work of other researchers. We hope our efforts
to give
back, with this website, helps others in gaining
knowledge, liberation and empowerment.
"There are only two mistakes one can make along the road to truth;
not going all the way, and not starting." — Buddha
If you find our work of value, consider making a Contribution.
This website is supported by readers like you.
[Click on Image below to Contribute]