(Stillness in the Storm Editor)
I wrote the following preamble to an update by Ken, and will include this in future posts as a disclaimer for his content.
I am sharing this article from Ken of Redefining God—as always—for your consideration.
He has many views and conclusions that are contrasted by those accepted by the awakening community. As such, reviewing his perspectives helps expand our own vision and facilitates greater discernment and comprehension.
Note: This is clearly marked in the About Us section of SITS, yet when posting these updates from Ken, I often receive feedback from readers who assume I wrote the article or that I am endorsing his views.

To be clear, I share information and data on this site from many different sources, and in some cases, there are conflicts with the information. Sometimes the articles are sensational or antagonistic but that doesn't mean I personal support what is being said.

My goal is not to claim these items as true, merely to offer them for consideration—to think about them which stimulates consciousness and inspiration.

My primary goal for this site and the work I do in general is to help myself and others become better truth seekers, which is essential so as to gain self-mastery, sovereignty or enlightenment. These are the qualities I feel we need to develop in everyone so that an awakened population can restore harmony and justice to this darkened world as well as simply living happy productive lives. Therefore, in order to constantly test and expand our knowledge of the truth, considering seemingly divergent perspectives is advantageous.
This being said the reader should not assume anything hosted on this site is my belief.

I can sometimes offer commentary in green but even this does not fully account for what I am personally concluding in relation to content shared on this site. And frankly, what I believe or think has no bearing on how you—the reader—processes and absorbs information. In short, ignore the messenger, focus on and think about the message.

In my understanding, the act of thinking about something is the process of expanding consciousness to further individual evolution. Whether or not the thing contemplated is reflective of reality isn't as important as the act of considering it.

Meditate on the idea that a fable, myth or parable need not be true in order to impart wisdom. In this way, reviewing opposing perspectives is often a powerful way to gain greater clarity and insight into what we think is true; or it helps us let go of false beliefs we maintain because of our attachment to them.
(Ken)
Behold the REAL President of the United States…
Source - Redefining God
by Ken, January 26th, 2017
…Trump's Chabad-Lubavitch handler (and son-in-law) Jared Kushner
President Trump has wasted no time in getting his handler a top position in his administration…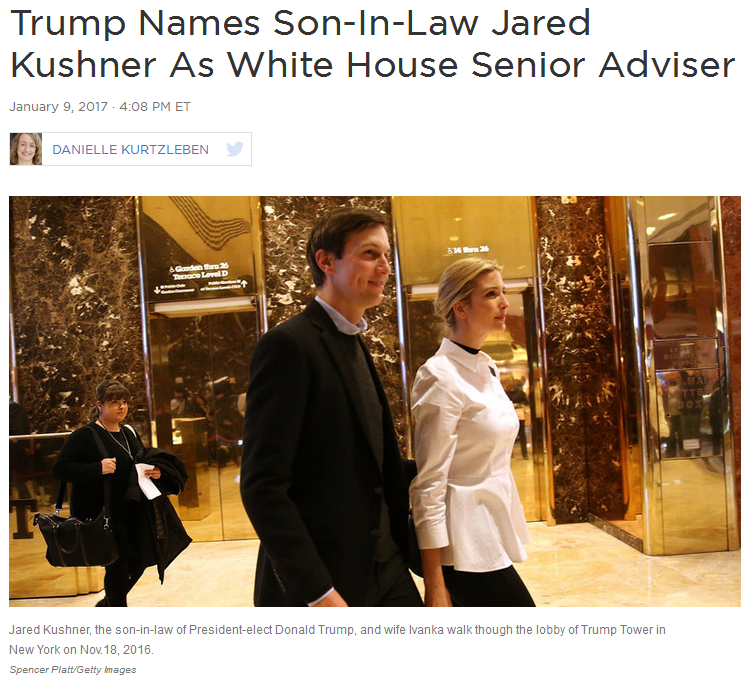 …From
NPR
…And both the handler and his wife (Trump's daughter Ivanka) have now moved into "the real White House"…
…From
Business Insider
It is through Ivanka and her rumored incestuous relationship with her father that the Kabbalists exercise complete control over Trump…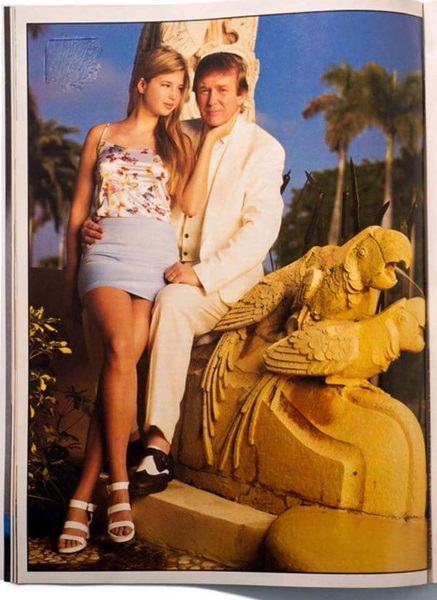 Should Trump step out of line, they need only have her say "daddy diddled me" and his life, brand, and presidency would come crashing down. So Trump will in no way vary from the Lubavitch End Times script, which calls for both Putin and him to be outed as the forces of "true Antichrist" in the next few years. Why else do you think they gave him a slick-looking handler who worked out of
666
Fifth
Avenue?…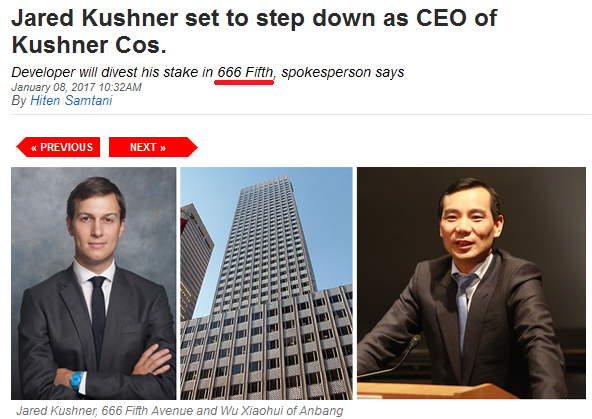 …From
TheRealDeal.com
Kushner looks like someone straight out of the cast of The Devil's Advocate, and that's no accident. The End Times prophetic show is a Hollywood production after all.
On a related note, if you are unfamiliar with Chabad-Lubavitch's connection to Kabbalism, just have a look at some of the courses offered by the Rohr Jewish Learning Institute (Chabad's adult education arm)…
Kabbalah Rhythms: A Spiritual Roadmap to Higher Living
Men, Women & Kabbalah: Wisdom and Advice From the Masters
Soul Maps: Kabbalah to Navigate Your Inner World
The Kabbalah of Time
The Kabbalah of Character
The Kabbalah of You: A Guide to Unlocking Your Hidden Potential
Kabbalah Unplugged: The Secret Power of Prayer
And speaking of Chabad's obsession with scripting the End Times to lead to total Kabbalist Jew control, this course looks interesting…
The Messiah Mystery: Toward a Perfect World
_________________________
Stillness in the Storm Editor's note: Did you find a spelling error or grammar mistake? Do you think this article needs a correction or update? Or do you just have some feedback? Send us an email at sitsshow@gmail.com.
Thank you for reading.
________________________________________________________________
Sign-up for RSS Updates:
Subscribe in a reader
Question

-- What is the goal of this website? Why do we share different sources of information that sometimes conflicts or might even be considered disinformation?
Answer

-- The primary goal of Stillness in the Storm is to help all people become better truth-seekers in a real-time boots-on-the-ground fashion. This is for the purpose of learning to think critically, discovering the truth from within—not just believing things blindly because it came from an "authority" or credible source.
Instead of telling you what the truth is, we share information from many sources so that you can discern it for yourself. We focus on teaching you the tools to become your own authority on the truth, gaining self-mastery, sovereignty, and freedom in the process. We want each of you to become your own leaders and masters of personal discernment, and as such, all information should be vetted, analyzed and discerned at a personal level. We also encourage you to discuss your thoughts in the comments section of this site to engage in a group discernment process.
"It is the mark of an educated mind to be able to entertain a thought without accepting it." – Aristotle
The opinions expressed in this article do not necessarily reflect the views of Stillness in the Storm, the authors who contribute to it, or those who follow it.
View and Share our Images.
Curious about Stillness in the Storm?
See our About this blog - Contact Us page.
If it was not for the gallant support of readers, we could not devote so much energy into
continuing this blog. We greatly appreciate any support you provide!
We hope you benefit from this not-for-profit site
It takes hours of work every day to maintain, write, edit, research, illustrate and publish this blog.
We have been greatly
empowered
by our search for the truth, and the work of other researchers. We hope our efforts
to give
back, with this website, helps others in gaining
knowledge, liberation and empowerment.
"There are only two mistakes one can make along the road to truth;
not going all the way, and not starting." — Buddha
If you find our work of value, consider making a Contribution.
This website is supported by readers like you.
[Click on Image below to Contribute]