(Stillness in the Storm Editor) The following is an article written by Dr. Michael Salla in reference to Steven Greer's Cosmic False Flag presentation earlier this month. I will be releasing an extensive overview, analysis, and assessment of that presentation in the next day or so, to include video clips of the presentation, with permission from Greer's team.
Corey Goode left the following comment on this article:
After listening to his recent lectures, it is obvious that there is zero research behind Greer's allegations about William Tompkins and Corey Goode. He obviously didn't look closely at what they say as he misrepresented what they have said heavily.

Once info about evil aliens comes up it violates his personal belief system (His UFO Religion) he then discounts all related information. We are ALL guilty of this to some degree.

He offers only his own opinion that they are MK Ultra victims. Believing that ALL ET's are GOOD is more dangerous than the worry about people's fear of EVIL ET's. This narrative set's up humanity to follow their genetic and social programming to WORSHIP!

The Cabal's grand deception plan is no longer to bring about a mass fake alien invasion. That was exposed heavily decades ago and is no longer a viable program to execute. This holographic technology is however still viable to use in smaller "theaters of war".

The plan now is to introduce humanity to an "Angelic and Human-Like" ET group and have people worship these so-called "angelic ET's" who bring us a "New Cosmic Esoteric World Religion".
The notion that EVIL is unique to us "Damn Dirty Apes" here on Earth is naive and a bit insulting. Why would duality end where our atmosphere does? As above, so below.
Related Are Secret Space Program Disclosures Prelude to a False Flag Alien Invasion? (Part 1)
Source - Exopolitics
by Dr. Michael Salla, November 20th 2016
On November 13,
Disclosure Project
founder Dr. Steven Greer claimed in a lecture that final preparations for a false flag alien invasion were being facilitated by the recent secret space program disclosures of Corey Goode and William Tompkins. Greer claims that both are victims of psychotronic holographic technologies where they have been implanted with scripted memories of evil aliens abusing captive humans.
Part one of this two part series, examined Greer's claims regarding Goode. This article examines what Greer had to say about Tompkins and his information.
A number of researchers into secret space program disclosures, including myself, have found Tompkins testimony and documentation to be the most powerful corroboration yet to emerge for many elements of Goode's earlier disclosures. Consequently, Greer's critique of Tompkins is very significant for assessing the validity of Goode's testimony.
Alienism, as I'm going to define it tonight, is the proclivity to view anything that is non-human, but an intelligent life-form, as a potential threat, and the threat is directly proportional to how different they either appear or behave from us.
He has the following to say about Tompkins testimony, which in Greer's view, promotes alienism through scripts prepared by military programs that promote the idea of threatening extraterrestrials:
I know that the folks that have been in the military programs connected to Mr. Tompkins and others have an agenda, and I question that agenda has to do with the propagation of fear and to convince the public that there's an existential threat … as Ronald Reagan said at the UN, would unite the world to fight.
Significantly, Greer refers to "military programs connected to Mr. Tompkins," yet provides no details of such a connection. He has no documents or witnesses of his own to corroborate his claim that Tompkins' memories are scripts created by military programs.
Instead he makes a general reference to a USAF intelligence officer, who worked for the Air Force Office of Special Investigations, who has new information about Unacknowledged Special Access Programs that will be released in Greer's forthcoming Unacknowledged documentary.
Greer argues that Tompkins descriptions of benevolent human-looking aliens and malevolent Reptilian-looking aliens conspiring to respectively assist or sabotage US Navy efforts to build a secret space program is a form of alienism:
With many of these people you'll hear that the ones that the look Nordic, shall we say. I've spent three or four hours with Bill Tompkins, the ones that kind of look like us but are pretty, those are GROOD [great/good] the ones that look some other way those are bad ones. Isn't that interstellar racism? … Take a step back. Aren't the good ones always the pretty blond ones with the big breasts… I find it appalling … are we really going to stay on that cycle of taking racism and turning it into alienism?
Now it's important to note here that Tompkins in his autobiography and subsequent interviews was giving a descriptive account of two different extraterrestrial groups that Navy spies had discovered in relation to Nazi Germany's secret aerospace programs.
The human looking-extraterrestrials operated in a more benign ethical way with civilians, while the Reptilian aliens behaved in a more imperialistic manner, wanting the Nazis to develop space fleets as a mercenary force that could join the Reptilians in deep space conquest.
Tompkins accounts of what the Navy spies were relaying during his covert service from 1942 to 1946, was based on trained intelligence operatives taking special note of the different actors and forces involved in helping the Nazis. The spies then reported this in detailed debriefings, which Tompkins had to relay in briefing documents to different U.S. aerospace corporations.
It's important to note that Tompkins accounts of the aliens are very descriptive as would be expected in an intelligence gathering program, rather than emotional or philosophical accounts of them. Therefore it is mistaken to imply that Tompkins and the Navy spies were implicitly racists, whose deep biases led to them promoting alienism when reporting on different extraterrestrial races involved in Nazi aerospace programs.
In his response to a question about the veracity of the testimonies of Goode and Tompkins, Greer raises the issue of corroboration, and refers to both of their testimonies being contaminated by "seductive and interesting" memory scripts:
What am I skeptical of about things that have come our recently from Bill Tompkins and others [Goode]? A lot! Here's the issue for me. You've got to have multiple points of corroboration, and the bigger the tale the more the proof you got to have. Now what I would say is it that I believe that these men are sharing what they believe to be true. I also know how easy it would be to provide information that is scripted about that, and that is seductive and interesting.
As far as "multiple points of corroboration" of Tompkins testimony is concerned, there are indeed documents and witnesses supporting many aspects of his testimony.
First are the documents that Tompkins has released concerning his claims of serving in a covert Navy Intelligence Program run by Rear Admiral Rico Botta with 29 spies in Nazi Germany learning about two Nazi secret space programs. Tompkins released a copy of two passes signed by Botta authorizing him to take multiple packets to experimental aircraft facilities.
Freedom of Information Act documents have been released that confirm that Botta had indeed signed Tompkins documents, and himself traveled to some of the experimental facilities Tompkins later said he was directed to take the briefing packets to.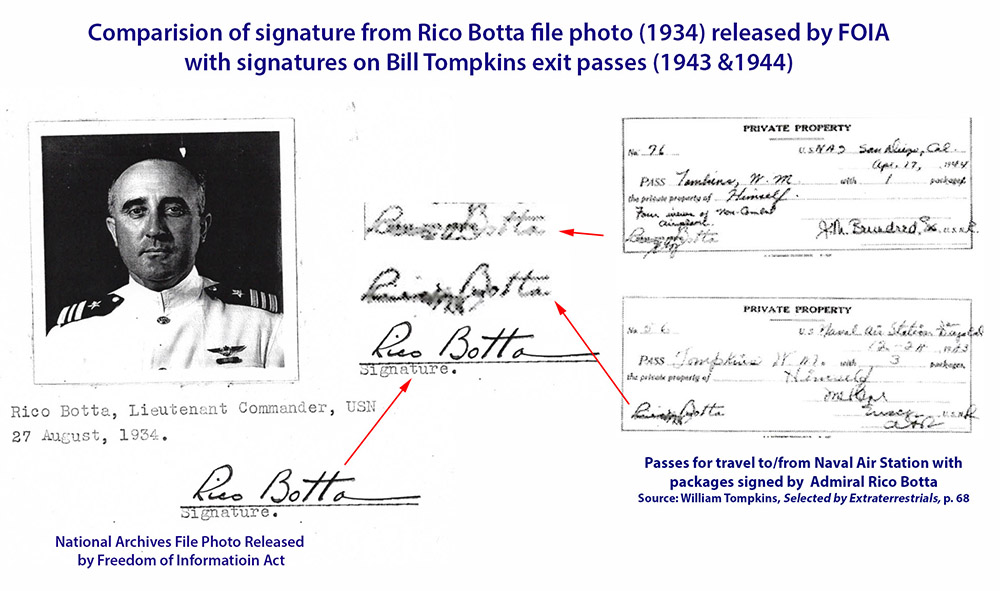 Second, there is Tompkins testimony that while he worked at Douglas Aircraft Company from 1950 to 1963, he was recruited into a top secret think tank called Advanced Design. He was asked to design space battle groups with kilometers-long space craft capable of fulfilling interplanetary missions, which were covertly sent to the Navy. Tompkins has released multiple Douglas documents, and also has a retired Douglas aerospace scientist, Dr. Robert Wood, confirming that Tompkins did work with the people he claims.
Third, after his retirement from the aerospace industry in 1984, Tompkins moved to Medford, Oregon, where he set up a local Navy League Council around 1991, among whose purposes was to conduct "Special Projects" involving extraterrestrial life. Tompkins released a document confirming that the Rogue Valley Council Navy League did indeed conduct "Special Projects" as he claimed.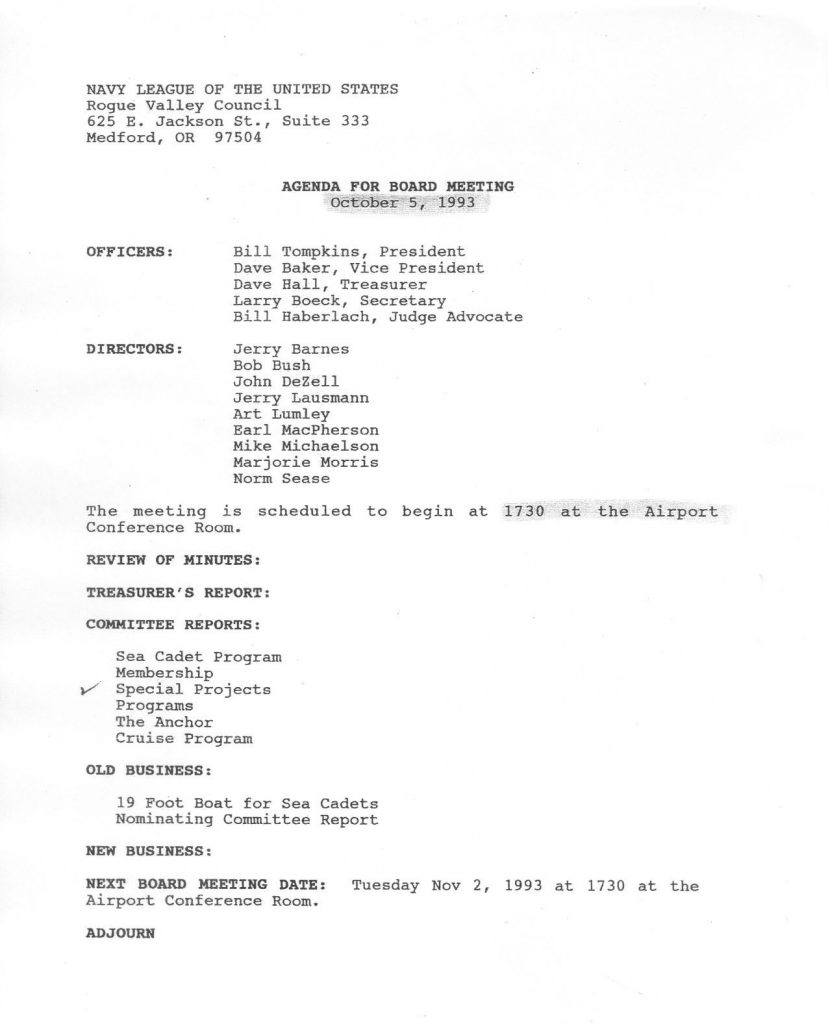 Furthermore two retired Navy officers, Captain Larry Boeck and Commander Art Lumley confirmed in private interviews that Tompkins did often speak about extraterrestrial life at Navy League meetings, and the Special Projects Committee did exist. A third Navy officer, Rear Admiral Larry Marsh, who was active at the time, traveled down from his two naval commands in Seattle, Washington, to Medford in 1991 to officiate at the opening ceremony for Navy League Council created by Tompkins.
Marsh confirmed in a private interview that Tompkins was a very competent organizer in creating the Council, and that the Council was very important to the regular Navy. He finally added that Tompkins was very knowledgeable on topics of interest to the Navy, which was a cryptic way of acknowledging that Tompkins was indeed conducting Special Projects at Medford.
Greer's insistence that "multiple points of corroboration" are required for testimonies such as Tompkins, is more than satisfied by what is known so far about Tompkins in terms of documents and corroborating witnesses. Greer fails to acknowledge any of the above "multiple points of corroboration" for Tompkins testimony, and instead simply makes the assertion that Tompkins testimony is contaminated by false memory scripts about evil Reptilian aliens and benevolent human looking extraterrestrials with no direct evidence whatsoever.
CONTINUE READING @ exopolitics.org
_________________________
Stillness in the Storm Editor's note: Did you find a spelling error or grammar mistake? Do you think this article needs a correction or update? Or do you just have some feedback? Send us an email at sitsshow@gmail.com.
Thank you for reading.
_________

Source:
http://exopolitics.org/secret-space-program-disclosures-false-flag-alien-events/
________________________________________________________________
Sign-up for RSS Updates:
Subscribe in a reader
Question

-- What is the goal of this website? Why do we share different sources of information that sometimes conflicts or might even be considered disinformation?
Answer

-- The primary goal of Stillness in the Storm is to help all people become better truth-seekers in a real-time boots-on-the-ground fashion. This is for the purpose of learning to think critically, discovering the truth from within—not just believing things blindly because it came from an "authority" or credible source.
Instead of telling you what the truth is, we share information from many sources so that you can discern it for yourself. We focus on teaching you the tools to become your own authority on the truth, gaining self-mastery, sovereignty, and freedom in the process. We want each of you to become your own leaders and masters of personal discernment, and as such, all information should be vetted, analyzed and discerned at a personal level. We also encourage you to discuss your thoughts in the comments section of this site to engage in a group discernment process.
"It is the mark of an educated mind to be able to entertain a thought without accepting it." – Aristotle
The opinions expressed in this article do not necessarily reflect the views Stillness in the Storm, the authors who contribute to it, or those who follow it.
View and Share our Images.
Curious about Stillness in the Storm?
See our About this blog - Contact Us page.
If it was not for the gallant support of readers, we could not devote so much energy into
continuing this blog. We greatly appreciate any support you provide!
We hope you benefit from this not-for-profit site
It takes hours of work every day to maintain, write, edit, research, illustrate and publish this blog.
We have been greatly
empowered
by our search for the truth, and the work of other researchers. We hope our efforts
to give
back, with this website, helps others in gaining
knowledge, liberation and empowerment.
"There are only two mistakes one can make along the road to truth;
not going all the way, and not starting." — Buddha
If you find our work of value, consider making a Contribution.
This website is supported by readers like you.
[Click on Image below to Contribute]