Source - Operation Disclosure
by NASA, November 22nd 2016
Mars Ice Deposit Holds as Much Water as Lake Superior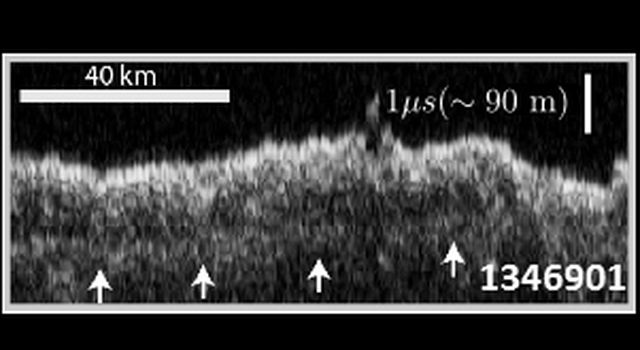 This vertically exaggerated view shows scalloped depressions in Mars' Utopia Planitia region, one of the area's distinctive textures that prompted researchers to check for underground ice, using ground-penetrating radar aboard NASA's Mars Reconnaissance Orbiter.
More than 600 overhead passes with the spacecraft's Shallow Radar (SHARAD) instrument provided data for determining that about as much water as the volume of Lake Superior lies in a thick layer beneath a portion of Utopia Planitia.
These scalloped depressions on the surface are typically about 100 to 200 yards or meters wide. The foreground of this view covers ground about one mile (1.8 kilometers) across. The perspective view is based on a three-dimensional terrain model derived from a stereo pair of observations by the High Resolution Imaging Science Experiment (HiRISE) camera on the Mars Reconnaissance Orbiter. One was taken on Dec. 25, 2006, the other on Feb. 2, 2007.
The vertical dimension is exaggerated fivefold in proportion to the horizontal dimensions, to make texture more apparent in what is a rather flat plain.
Similar scalloped depressions are found in portions of the Canadian Arctic, where they are indicative of ground ice.
The University of Arizona, Tucson, operates HiRISE, which was built by Ball Aerospace & Technologies Corp., Boulder, Colo. NASA's Jet Propulsion Laboratory, a division of Caltech in Pasadena, California, manages the Mars Reconnaissance Orbiter Project for NASA's Science Mission Directorate, Washington.

Fast Facts:

› Water ice makes up half or more of an underground layer in a large region of Mars about halfway from the equator to the north pole.

› The amount of water in this deposit is about as much as in Lake Superior. It was assessed using a radar aboard a NASA spacecraft orbiting Mars.

› This research advances understanding about Mars' history and identifies a possible resource for future astronauts.

Frozen beneath a region of cracked and pitted plains on Mars lies about as much water as what's in Lake Superior, largest of the Great Lakes, researchers using NASA's Mars Reconnaissance Orbiter have determined.

Scientists examined part of Mars' Utopia Planitia region, in the mid-northern latitudes, with the orbiter's ground-penetrating Shallow Radar (SHARAD) instrument. Analyses of data from more than 600 overhead passes with the onboard radar instrument reveal a deposit more extensive in area than the state of New Mexico. The deposit ranges in thickness from about 260 feet (80 meters) to about 560 feet (170 meters), with a composition that's 50 to 85 percent water ice, mixed with dust or larger rocky particles.

At the latitude of this deposit -- about halfway from the equator to the pole -- water ice cannot persist on the surface of Mars today. It sublimes into water vapor in the planet's thin, dry atmosphere. The Utopia deposit is shielded from the atmosphere by a soil covering estimated to be about 3 to 33 feet (1 to 10 meters) thick.

"This deposit probably formed as snowfall accumulating into an ice sheet mixed with dust during a period in Mars history when the planet's axis was more tilted than it is today," said Cassie Stuurman of the Institute for Geophysics at the University of Texas, Austin. She is the lead author of a report in the journal Geophysical Research Letters.

Mars today, with an axial tilt of 25 degrees, accumulates large amounts of water ice at the poles. In cycles lasting about 120,000 years, the tilt varies to nearly twice that much, heating the poles and driving ice to middle latitudes. Climate modeling and previous findings of buried, mid-latitude ice indicate that frozen water accumulates away from the poles during high-tilt periods.



Martian Water as a Future Resource

The name Utopia Planitia translates loosely as the "plains of paradise." The newly surveyed ice deposit spans latitudes from 39 to 49 degrees within the plains. It represents less than one percent of all known water ice on Mars, but it more than doubles the volume of thick, buried ice sheets known in the northern plains. Ice deposits close to the surface are being considered as a resource for astronauts.

"This deposit is probably more accessible than most water ice on Mars, because it is at a relatively low latitude and it lies in a flat, smooth area where landing a spacecraft would be easier than at some of the other areas with buried ice," said Jack Holt of the University of Texas, a co-author of the Utopia paper who is a SHARAD co-investigator and has previously used radar to study Martian ice in buried glaciers and the polar caps.

The Utopian water is all frozen now. If there were a melted layer -- which would be significant for the possibility of life on Mars -- it would have been evident in the radar scans. However, some melting can't be ruled out during different climate conditions when the planet's axis was more tilted. "Where water ice has been around for a long time, we just don't know whether there could have been enough liquid water at some point for supporting microbial life," Holt said.

Utopia Planitia is a basin with a diameter of about 2,050 miles (3,300 kilometers), resulting from a major impact early in Mars' history and subsequently filled. NASA sent the Viking 2 Lander to a site near the center of Utopia in 1976. The portion examined by Stuurman and colleagues lies southwest of that long-silent lander.

Use of the Italian-built SHARAD instrument for examining part of Utopia Planitia was prompted by Gordon Osinski at Western University in Ontario, Canada, a co-author of the study. For many years, he and other researchers have been intrigued by ground-surface patterns there such as polygonal cracking and rimless pits called scalloped depressions -- "like someone took an ice-cream scoop to the ground," said Stuurman, who started this project while a student at Western.

Clue from Canada

In the Canadian Arctic, similar landforms are indicative of ground ice, Osinski noted, "but there was an outstanding question as to whether any ice was still present at the Martian Utopia or whether it had been lost over the millions of years since the formation of these polygons and depressions."

The large volume of ice detected with SHARAD advances understanding about Mars' history and identifies a possible resource for future use.

"It's important to expand what we know about the distribution and quantity of Martian water," said Mars Reconnaissance Orbiter Deputy Project Scientist Leslie Tamppari, of NASA's Jet Propulsion Laboratory, Pasadena, California. "We know early Mars had enough liquid water on the surface for rivers and lakes. Where did it go? Much of it left the planet from the top of the atmosphere. Other missions have been examining that process. But there's also a large quantity that is now underground ice, and we want to keep learning more about that."

Joe Levy of the University of Texas, a co-author of the new study, said, "The ice deposits in Utopia Planitia aren't just an exploration resource, they're also one of the most accessible climate change records on Mars. We don't understand fully why ice has built up in some areas of the Martian surface and not in others. Sampling and using this ice with a future mission could help keep astronauts alive, while also helping them unlock the secrets of Martian ice ages."

SHARAD is one of six science instruments on the Mars Reconnaissance Orbiter, which began its prime science phase 10 years ago this month. The mission's longevity is enabling studies of features and active processes all around Mars, from subsurface to upper atmosphere. The Italian Space Agency provided the SHARAD instrument and Sapienza University of Rome leads its operations. The Planetary Science Institute, based in Tucson, Arizona, leads U.S. involvement in SHARAD. JPL, a division of Caltech in Pasadena, manages the orbiter mission for NASA's Science Mission Directorate in Washington. Lockheed Martin Space Systems of Denver built the spacecraft and supports its operations.

News Media Contact

Dwayne Brown / Laurie Cantillo
NASA Headquarters, Washington
202-358-1726 / 202-358-1077
dwayne.c.brown@nasa.gov / laura.l.cantillo@nasa.gov

Guy Webster
Jet Propulsion Laboratory, Pasadena, Calif.
818-354-6278
guy.webster@jpl.nasa.gov

Anton Caputo
University of Texas Jackson School of Geosciences
512-232-9623
anton.caputo@jsg.utexas.edu

2016-299
_________________________
Stillness in the Storm Editor's note: Did you find a spelling error or grammar mistake? Do you think this article needs a correction or update? Or do you just have some feedback? Send us an email at sitsshow@gmail.com.
Thank you for reading.
_________

Source:
http://operationdisclosure.blogspot.com/2016/11/ice-deposits-on-mars-holds-as-much.html
________________________________________________________________
Sign-up for RSS Updates:
Subscribe in a reader
Question

-- What is the goal of this website? Why do we share different sources of information that sometimes conflicts or might even be considered disinformation?
Answer

-- The primary goal of Stillness in the Storm is to help all people become better truth-seekers in a real-time boots-on-the-ground fashion. This is for the purpose of learning to think critically, discovering the truth from within—not just believing things blindly because it came from an "authority" or credible source.
Instead of telling you what the truth is, we share information from many sources so that you can discern it for yourself. We focus on teaching you the tools to become your own authority on the truth, gaining self-mastery, sovereignty, and freedom in the process. We want each of you to become your own leaders and masters of personal discernment, and as such, all information should be vetted, analyzed and discerned at a personal level. We also encourage you to discuss your thoughts in the comments section of this site to engage in a group discernment process.
"It is the mark of an educated mind to be able to entertain a thought without accepting it." – Aristotle
The opinions expressed in this article do not necessarily reflect the views Stillness in the Storm, the authors who contribute to it, or those who follow it.
View and Share our Images.
Curious about Stillness in the Storm?
See our About this blog - Contact Us page.
If it was not for the gallant support of readers, we could not devote so much energy into
continuing this blog. We greatly appreciate any support you provide!
We hope you benefit from this not-for-profit site
It takes hours of work every day to maintain, write, edit, research, illustrate and publish this blog.
We have been greatly
empowered
by our search for the truth, and the work of other researchers. We hope our efforts
to give
back, with this website, helps others in gaining
knowledge, liberation and empowerment.
"There are only two mistakes one can make along the road to truth;
not going all the way, and not starting." — Buddha
If you find our work of value, consider making a Contribution.
This website is supported by readers like you.
[Click on Image below to Contribute]