Source - Exopolitics
by Dr. Michael Salla, August 23rd 2016
In this second article in a series discussing Corey Goode's
latest update
about his meetings with representatives of extraterrestrial groups, Inner Earth civilizations and the "Secret Space Program Alliance," I focus on what he claims to have been told about ongoing negotiations and battles between Cabal/Syndicate groups, and the "Earth Alliance".
The Earth Alliance comprises BRICS nations (Brazil, Russia, India, China & South Africa), Asian secret societies, and "White Hats" within the military industrial complex of the U.S. and other nations, who desire to have full disclosure of extraterrestrial life and advanced space technologies, and expose crimes committed by Cabal/Syndicate groups.
Goode says that after he had completed his discussion with Raw Teir-Eir about increasing cosmic energy waves, humanity's optimal time line, and Ascension discussed in the
previous article
, a familiar figure was transported to the same meeting area.
He described
his initial encounter with Lt. Col. Gonzales – a pseudonym used by this liaison to the Secret Space Program [SSP] Alliance comprising the Solar Warden Space Program and defectors from rival space programs:
I was about to inquire more about what had just been communicated when I then noticed a blue orb arrive. The orb deposited Gonzales next to the other three beings mentioned before. He was facing them and obviously communicating with them. The entire group appeared to glide over to within about 10 feet of Tear-Eir and I as we wrapped up our communication.
Gonzales greeted me with a big smile and asked "I hope you didn't miss me too much". It was nice to see that he still had the same sense of humor. He had just gotten back from a meeting with the SSP Alliance where the Mayan group was also present.
The Mayan group is one of the ancient Earth civilizations that developed a space program, and they have colonies in other solar systems including the Pleiades constellation. Gonzales, according to Goode, is now working as the liaison between the Secret Space Program Alliance and the Mayans.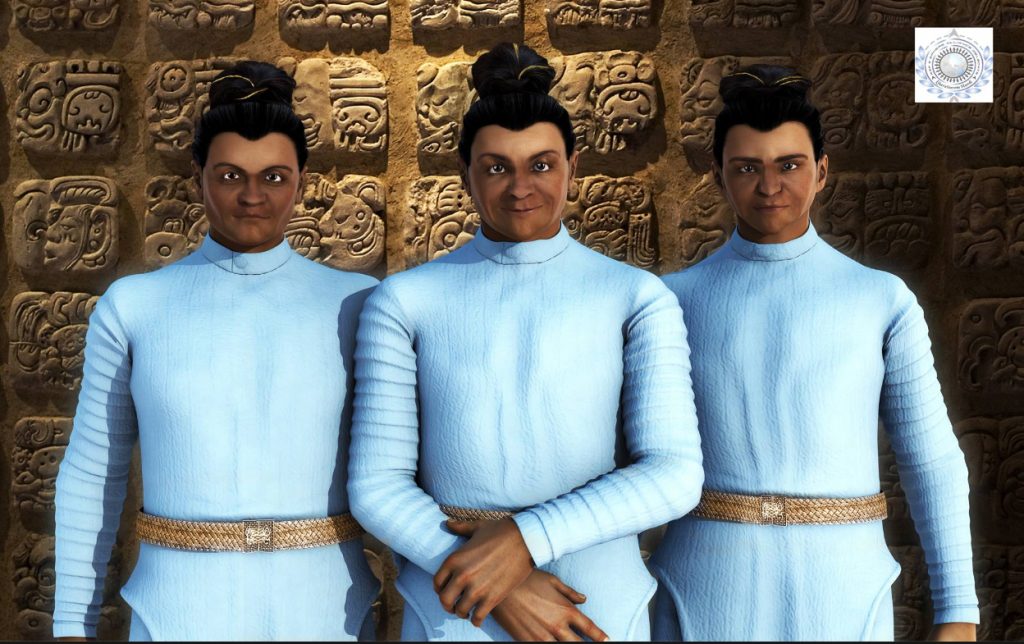 Artist depiction of Mayan Secret Space Program personnel
Previously, Gonzales worked as the liaison between the Secret Space Program Alliance and the Earth Alliance, where he held a cover identity in Texas. When he was involuntarily outed by Goode, who had been
abducted by a lower level secret space
program under the control of the USAF Space Command, National Reconnaissance Office and Defense Intelligence Agency, Gonzales had to flee for safety into the Inner Earth to find sanctuary with one of the civilizations there called the Anshar.
In the
second part of his report
, Goode gives a surprising explanation for why Gonzales had to leave his sanctuary with the Anshar after having spent several weeks with them:
On two separate occasions, he noticed two of the priest caste walking down a corridor that ended in a solid cave wall. They walked right through the wall but he was unable to do so himself. It was quite difficult for him to find a way to look into the room they had gone into, but eventually he discovered a fissure in the wall that allowed him to see where they went. When he looked in, he saw a number of different types of giants that were conversing with the two priests. Their heights varied considerably. These giants were very upset. They appeared to be prisoners or refugees. The bigger one that was conversing with the priest in the front had his head in his palm. He was making what Gonzales perceived as groaning noises. Shortly after that incident, Gonzales had worn out his welcome and was asked to leave. He didn't have any information on why the giants were there.
During their encounter, Gonzales gave Goode the latest information about negotiations between the Earth Alliance and the Cabal:
Gonzales then went into recent details about negotiations between the Earth Alliance and the syndicates that make up what many of us refer to as the Cabal. These negotiations seem to be going nowhere fast. They are now debating the fates of the syndicate members and those that had worked under them – both wittingly and un-wittingly. These syndicates insist that either everyone in their groups are given full immunity and pardoned from prosecution, or no one should receive immunity.
Goode
went on to describe
the Cabal's argument for partial disclosure:
They also continue to insist on a controlled, partial disclosure that would gradually unfold over the next 100 years. They opposed any type of document dumps, insisting that this would de-stabilize the entire socio-economic system on the planet. They argued that a full disclosure would lead to chaos and many deaths from rioting and the anger and panic from countries victimized by the Cabal. A large number of the Earth Alliance members have similar fears of these scenarios taking place in the event of a full disclosure.
Goode describes the plan hatched by Cabal/Syndicates in case mass document dumps were to occur:
Gonzales then went on to state that the syndicates had already prepared for a massive document dump. They have developed a kill switch for the internet, and can knock out communications and even electricity in certain regions to stop the data from being viewed. They can mitigate any response from those who had viewed the data, such as through their controlled establishment media outlets. They can also manicure and remove videos, articles or social media posts that contradict their agenda.
Goode revealed that the
Panama Papers
are part of a Cabal orchestrated plan to thwart
mass document dumps
by preemptively exposing prominent members of the Earth Alliance:
CONTINUE READING @ exopolitics.org
_________________________
Stillness in the Storm Editor's note: Did you find a spelling error or grammar mistake? Do you think this article needs a correction or update? Or do you just have some feedback? Send us an email at sitsshow@gmail.com.
Thank you for reading.
_________

Source:
http://exopolitics.org/secret-negotiations-space-battles-over-full-disclosure/
________________________________________________________________


Sign-up for RSS Updates:
Subscribe in a reader
View and Share our Images.
Curious about Stillness in the Storm?
See our About this blog - Contact Us page.
If it was not for the gallant support of readers, we could not devote so much energy into
continuing this blog. We greatly appreciate any support you provide!
We hope you benefit from this not-for-profit site
It takes hours of work every day to maintain, write, edit, research, illustrate and publish this blog.
We have been greatly
empowered
by our search for the truth, and the work of other researchers. We hope our efforts
to give
back, with this website, helps others in gaining
knowledge, liberation and empowerment.
"There are only two mistakes one can make along the road to truth;
not going all the way, and not starting." - Buddha
If you find our work of value, consider making a Contribution.
This website is supported by readers like you.
[Click on Image below to Contribute]