Related Creating the Optimal Time Line for Full UFO Disclosure & Ascension
Related Secret Negotiations & Space Battles over Full Disclosure
Source - Exopolitics
by Dr. Michael Salla, August 24th 2016
In this final article in a three part series discussing
Corey Goode's August 22 update,
I focus on his claims of having been taken to Venus and near Saturn to visit Ancient Builder Race facilities. Goode's experiences and the information he received appear to be part of a coordinated effort by the Sphere Being Alliance and an Inner Earth Civilization to help raise the consciousness of surface humanity in order to better prepare for both "Full Disclosure" and "Ascension" related events.
On August 3, Goode was
told to prepare
for a visit to an Ancient Builder Race facility on Venus, thought to be hundreds of thousands if not millions of years old:
Over the following weeks, I had a few more meetings with Kaaree that were mostly of a personal nature. Then, on August 3rd, she contacted me and told me to prepare mentally for our return trip to the Ancient Builder Race (ABR) outpost on Venus and outside the orbit of Saturn…. It was a week later – August 10th – that this meeting finally occurred. I was excited and a little nervous that I would not be granted entrance.
Previously there had been two attempts to reach this facility. Lt. Col. Gonzales made the first trip in March 2016 had reached the surface of Venus and was directly outside of the facility. He
was turned away
by the custodian of the facility called the Sentinel, who had expected Goode to be present.
In April 2016, Goode was taken to Venus by a spacecraft belonging to the Anschar – the Inner Earth civilization in which Kaaree is a high priestess. However, before the spacecraft could reach Venus, the
craft was intercepted
by a number of cigar shaped spacecraft that would not let his craft proceed further.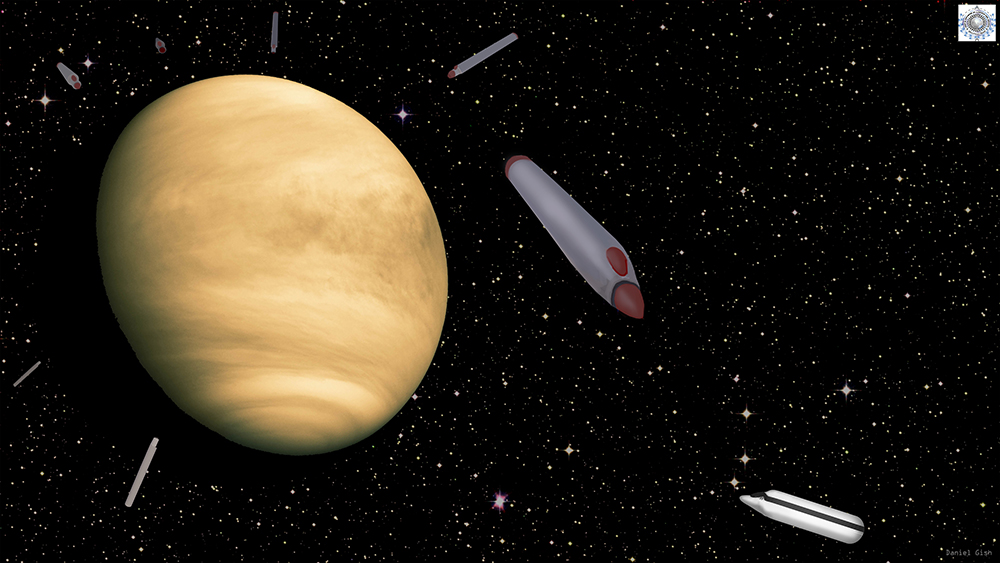 Artist depiction of Anshar 'bus' blocked by cigar-shaped spacecraft. Source: Sphere Being Alliance
On August 10, a similar Anshar spacecraft arrived to take Goode and Kaaree to Venus. He describes how the Anshar space bus travelled into the upper atmosphere where they received clearance from Lunar Operations Command (LOC) to leave Earth. Goode has
previously described
the LOC as being under the control of the Interplanetary Corporate Conglomerate, a corporate run space program:
We went through an area in which they are cleared to "punch in and out" of the Earth's atmosphere by the LOC and other groups that manage air traffic. We seemed to make it to Venus quicker this time, as it was only about a 10-minute flight.
This time, there were no other spacecraft blocking Goode's journey, and
he describes what happened
as he entered the Venusian atmosphere:
We stopped about a thousand feet above the surface of the planet. It was extremely eroded by rain and wind. Some of the mountains had formed into strange shapes that some would think looked a little artificial. The Anshar bus then went transparent, and data began to appear all around me. I looked down and saw the huge H-shaped structure inside a crater.
He then describes meeting the Sentinel who had earlier turned Gonzales away from entering the facility:
There were also a couple of structures that resembled obelisks, and had what looked like the same H symbols all along them – almost like a totem pole. We were standing in front of a very large entrance into a much larger cavern. Without warning, a 14-foot being appeared before us. He had alabaster white skin, and wore all white. The Anshar referred to him as a "Sentinel." … He never said a word. Instead, he turned and slightly motioned us with his head to follow him into the larger cavern.
Gonzales had not gotten this far during his March visit. Goode then describes how the Sentinel telepathically communicated with him.
As we walked inside the structure, the translucent walls began to light up with static symbols all over them. The ceiling inside was over 300 feet tall. The entire structure was well over a thousand feet tall, and ended in an area that appeared to be about 100 feet below the ceiling of the cavern. The Sentinel then reached into my mind. It was more powerful than the Draco White Royal experience, but was not violent or invasive.
There were two incidents with the Draco White Royal where first Goode and then Gonzales had encounters, and
both described
the invasive effects of the communication, and the need to recover afterward.
Goode elaborates on the impact of the Sentinel's download of a lot of information into him.
Ever since this experience, I have felt as if a massive zip file has been loaded into my mind. It takes up a large amount of storage space and I do not yet have the password to unlock its contents.
The Sentinel then posed a question to Goode, one that had been similarly made to him by Kaaree, and one that had also posed to Gonzales by the Mayans:
The Sentinel then addressed me for one and only one time. He asked, "Do you want the knowledge of who you were, who you are and who you will be?" I was startled by the communication, which I seemed to feel not just in my head but in my entire body.
Again I was compelled to answer no. I had been told that the answer would drastically change the nature of all of my personal relationships in a variety of ways that I cannot foresee. This made me feel concerned about my family, among other things.
Goode says that he then saw symbols, which had subsequently appeared in a recent crop circle in England:
I must admit I was very surprised to see similar symbols appear in a recent crop circle. Even if this formation is somehow a hoax, it may be that the minds of those who created it were inspired by the same consciousness that I had interacted with. As I saw some of the symbols in the crystal pyramid, I had a sudden thought that these were numbers and mathematical formulas.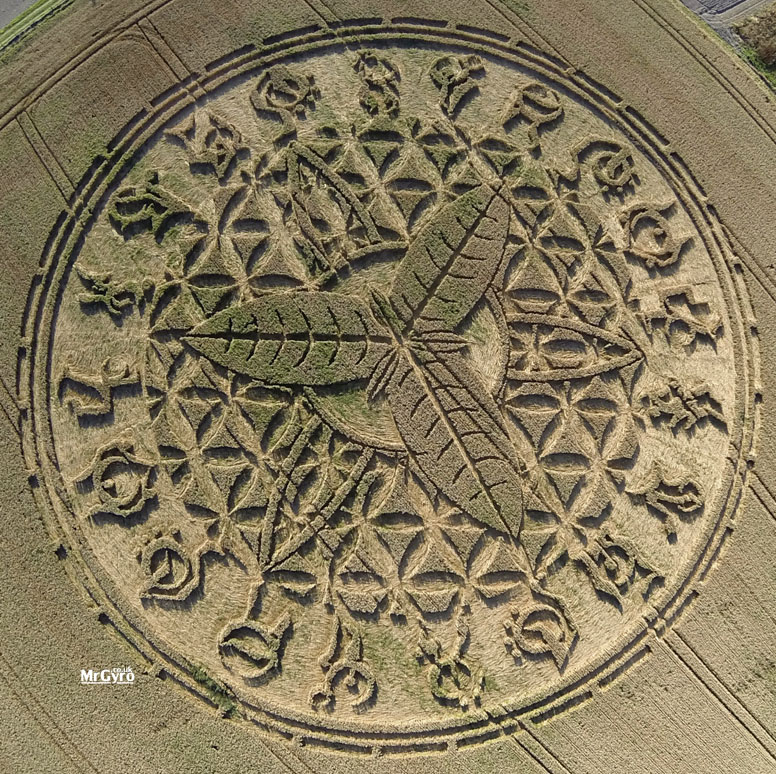 CONTINUE READING @ exopolitics.org
_________________________
Stillness in the Storm Editor's note: Did you find a spelling error or grammar mistake? Do you think this article needs a correction or update? Or do you just have some feedback? Send us an email at sitsshow@gmail.com.
Thank you for reading.
_________

Source:
http://exopolitics.org/a-visit-to-ancient-extraterrestrial-outposts-on-venus-orbiting-saturn/
________________________________________________________________


Sign-up for RSS Updates:
Subscribe in a reader
View and Share our Images.
Curious about Stillness in the Storm?
See our About this blog - Contact Us page.
If it was not for the gallant support of readers, we could not devote so much energy into
continuing this blog. We greatly appreciate any support you provide!
We hope you benefit from this not-for-profit site
It takes hours of work every day to maintain, write, edit, research, illustrate and publish this blog.
We have been greatly
empowered
by our search for the truth, and the work of other researchers. We hope our efforts
to give
back, with this website, helps others in gaining
knowledge, liberation and empowerment.
"There are only two mistakes one can make along the road to truth;
not going all the way, and not starting." - Buddha
If you find our work of value, consider making a Contribution.
This website is supported by readers like you.
[Click on Image below to Contribute]