(Stillness in the Storm Editor) I wrote the following preamble to the last update by Ken, and will include this in future posts as a disclaimer.
I am sharing this article from Ken of Redefining God—as always—for your consideration.
He has many views and conclusions which are contrasted by those accepted by the awakening community. As such, reviewing his perspectives helps expand our own vision and facilitates greater discernment and comprehension.
Note: This is clearly marked in the About Us section of SITS, yet when posting these updates from Ken, I often receive feedback from readers who assume I wrote the article or that I am endorsing his views.
To be clear, I share information and data on this site from many different sources, and in some cases, there are conflicts with the data.
My goal is not to claim these items as true, merely to offer them for consideration—to think about them which stimulates consciousness and inspiration.
My primary goal for this site and the work I do in general is to help myself and others become better truth seekers, which is essential so as to gain self-mastery, sovereignty or enlightenment. These are the qualities I feel we need to develop in everyone so that an awakened population can restore harmony and justice to this darkened world as well as simply living happy productive lives. Therefore, in order to constantly test and expand our knowledge of the truth, considering seemingly divergent perspectives is advantageous.
This being said the reader should not assume anything hosted on this site is my belief.
I usually offer commentary in green but even this does not fully account for what I am personally concluding in relation to content shared on this site. And frankly, what I believe or think has no bearing on how you—the reader—processes and absorbs information. In short, ignore the messenger, focus on and think about the message.
In my understanding, the act of thinking about something is the process of expanding consciousness to further individual evolution. Whether or not the thing contemplated is reflective of reality isn't as important as the act of considering it.
Meditate on the idea that a fable, myth or parable need not be true in order to impart wisdom. In this way, reviewing opposing perspectives is often a powerful way to gain greater clarity and insight into what we think is true; or it helps us let go of false beliefs we maintain because of our attachment to them.
Related Globalist Agenda Watch Updates
Source - Redefining God
by Ken
Watching the bizarre goings-on in Turkey, this passage from a
CNN article
caught my eye…
"A total of 2,839 military officers were detained, a source in the President's office said. And the Ankara chief public prosecutor's office took nearly 200 top Turkish court officials into custody, Anatolian News Agency reported Saturday.

The officials include 140 members of the Supreme Court and 48 members of the Council of State, one of Turkey's three high courts."
So why are court officials being arrested in a supposed military coup? Did Erdogan himself stage this coup so he could rid the government and military of his opponents? It sure smells like it.
Given that there has been absolutely no time whatsoever to investigate who was behind it, how else would he have known which 2,839 specific military officers and which 188 specific court officials to arrest? It looks like he already had his enemy list prepared, and he used this staged event to round them up.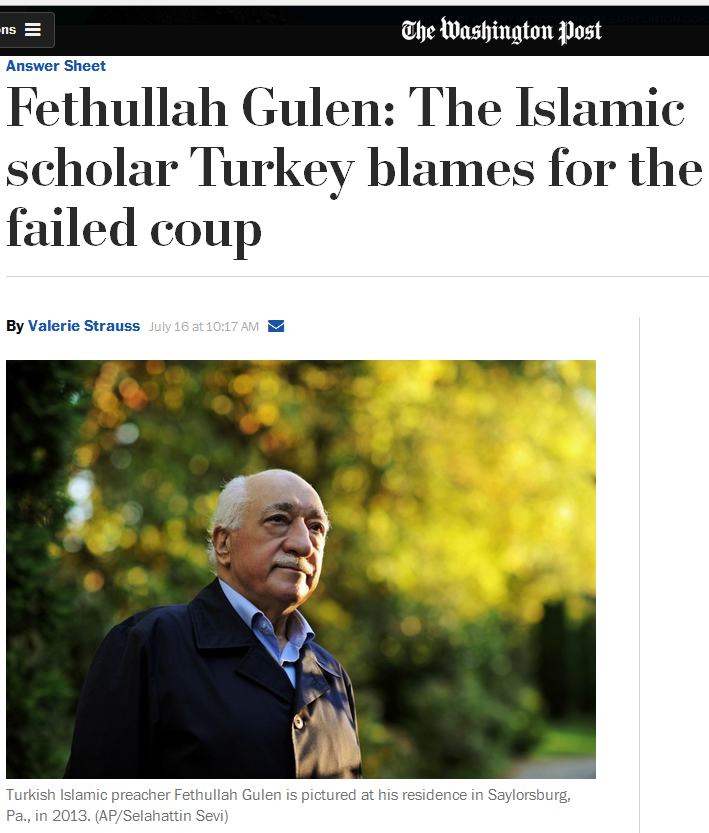 …From
The Washington Post
It looks like the globalists might positioning their boy Erdogan to be the Turkish Obama/Hillary to be taken down in this year's crisis, and it might be Gulen who will be the Turkish Trump
. This passage from
his Wikipedia bio
really caught my eye…
"Gulen has stated that he believes in science, interfaith dialogue among the People of the Book, and multi-party democracy. He has initiated such dialogue with the Vatican and some Jewish organizations."



Take a moment to think about that passage…

> "

he believes in science

" – Wouldn't you know it, both the

Jews

and the

Jesuits

(the Crypto-Jewish order that has captured the Roman Catholic Church) are big into science, and along with the "Royals," they are the ones driving us into the multilateral / multipolar New World Order.

> "

he believes in… interfaith dialogue among the People of the Book

" – As I laid out in

"End Times" Programming

, one of the objectives of the NWO-builders is to unite the "People of the Book" – along with the other religions – into a "Spiritual UN" based in Jerusalem (as an intermediate step to something truly diabolical).

> "

he believes in… multi-party democracy

" – While this sounds good on the surface, the reality is that all our democracies are improperly-structured shams. Hierarchical "democracy" was put in place as a buffer layer between us and the Occulted Powers (the royals, bankster Jews, priests, and their subordinate secret societies) that rule us from behind the scenes. Our secret rulers have found that multi-party "democracies" work the best, since they offer a variety of political brands to lure more people into the system.

> "

He has initiated such dialogue with the Vatican and some Jewish organizations

" – Of course he has – they are running the show.

Just like Trump is for America, Gulen is a tailor-made candidate for leading Turkey when the multilateral New World Order kicks off later this year.

So when the Transition Point comes, watch for the media to out Erdogan's planning of yesterday's coup

(as well as his covert support of ISIS and other wrongdoings). This will make his supposed foe, Gulen, look very good and lead to his triumphant return to Turkey.

While we're on the subject of Erdogan's fake coup, covert support of ISIS, and personal corruption, let's take a look at another passage from Gulen's bio…
"Gulen was an ally of Turkish President Recep Tayyip Erdoğan before 2013. The alliance was destroyed after alleged 2013 corruption investigations in Turkey. Erdogan accused Gulen for being behind the corruption investigations."
Given how the globalists operate, it's no surprise that they took two political allies, staged a public split between the two, and set them in supposed opposition to each other. It's standard procedure. And it's also no surprise that the future NWO King, Vladimir Putin, has previously hit Erdogan on his personal corruption and complicity with ISIS…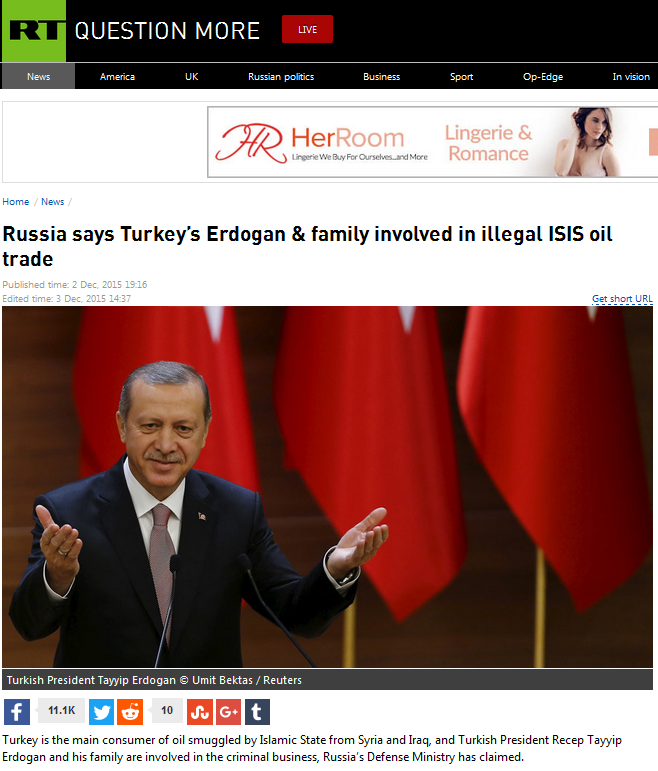 …From
RT
So when Gulen finally ousts his ol' globalist pal Erdogan, it will appear as though a principled "good guy" has defeated a corrupt "bad guy." And this too is no surprise if you've been reading this blog for a while…
"The globalists are in the process of running a problem / reaction / SOLUTION scam on us, not a problem / reaction / PROBLEM scam.

This means that when we reach the end result of this transition process, the NWO will look like the SOLUTION to all our problems, not another PROBLEM (such as a dark, scary fascist regime) we need to overcome. It will appear as though the corrupt have been defeated, World War 3 has been stopped, all regional conflicts have been resolved, biowarfare against the population has been halted, poverty has been alleviated, debt money has been abolished, secrets have been revealed, and so on and so forth. And the masses, after having been force-fed negativity and conditioned to expect a scary NWO for so long, are expected to be so overcome with joy that they'll willingly embrace the New Order." – From The Multilateral/Multipolar New World Order will seem like heaven… at first
In the scam, Erdogan's government is the "dark, scary fascist regime" and "the corrupt," and Gulen is the NWO savior who will rescue Turkey from the darkness… for a time.
Much love…
_________________________
Stillness in the Storm Editor's note: Did you find a spelling error or grammar mistake? Do you think this article needs a correction or update? Or do you just have some feedback? Send us an email at sitsshow@gmail.com.
Thank you for reading.
_________

Source:
http://redefininggod.com/2016/07/a-false-flag-coup-in-turkey/
________________________________________________________________


Sign-up for RSS Updates:
Subscribe in a reader
View and Share our Images.
Curious about Stillness in the Storm?
See our About this blog - Contact Us page.
If it was not for the gallant support of readers, we could not devote so much energy into
continuing this blog. We greatly appreciate any support you provide!
We hope you benefit from this not-for-profit site
It takes hours of work every day to maintain, write, edit, research, illustrate and publish this blog.
We have been greatly
empowered
by our search for the truth, and the work of other researchers. We hope our efforts
to give
back, with this website, helps others in gaining
knowledge, liberation and empowerment.
"There are only two mistakes one can make along the road to truth;
not going all the way, and not starting." - Buddha
If you find our work of value, consider making a Contribution.
This website is supported by readers like you.
[Click on Image below to Contribute]