Source - Exopolitics
by Dr. Michael Salla
On May 26, President Barack Obama issued a report to the U.S. Congress about an interagency effort to develop an "integrated policy" to deter potential enemies in Space. Obama's "Space Report" gives credence to secret space program whistleblowers such as Corey Goode, who claim that battles have been fought between rival secret space programs in 2015, with the most recent occurring over Antarctica in April 2016.
In a
letter released
through the White House Press Secretary discussing the report along with a classified Annex, Obama said:
The report is the result of an interagency process with the objectives to reduce risks to the United States and our allies in space; and to protect and preserve the rights, access, capabilities, use, and freedom of action of the United States in space. Success will require a multi-year effort and commitment across all departments and agencies, and I look forward to your continued support.
Obama's letter said
the report was issued to comply with "section 1613 of the National Defense Authorization Act for Fiscal Year 2016″, which he signed into law on November 25, 2015.
The Act was first submitted as a Bill on May 14, 2015, and had
the following section
to which Obama was directly responding in his May 26, 2016, letter:
Requires the President to establish an interagency process to develop a policy to deter adversaries in space.
Obama's letter refers
to "a multi-year effort and commitment across all departments and agencies." What provides important context for his letter are reports of alleged battles in space between different secret space programs, which began in early 2015 according to Goode.
Goode's first public reference to battles in space was in an email interview released on May 30, 2015 where
he discussed
recent military conflict between different secret space programs [SSP] and their respective extraterrestrial allies both on Earth and in deep space:
Before the breakdown in the overall relations between the factions that were once united through the "Secret Earth Governments" (and their "Syndicates" known as the Cabal/Illuminati and various other Secret Societies), their Controllers (Draco Federation Royals and Ancient Earth/Human Break Away Civilizations that have deceived many and presented themselves as ET's from various Star Systems) there has been quite a lot of chaos among these groups which has resulted in them turning on each other. This has led to conflict in various underground/undersea networked facilities that have been responsible for some of the Earth Quakes in recent months that have been occurring across the Planet Earth as well as some incidents on Mars and other bodies in the Sol System…
Goode
went on to describe
the result of defections to a SSP Alliance formed with the U.S. Navy's Solar Warden program, which led to a surge in military battles, especially on Mars leading to many deaths at secret colonies:
Over the last 6 months there have also been some defections of assets from the Cabal controlled ICC [Interplanetary Corporate Conglomerate] Secret Space Program, remnants of the Dark Fleet (which is not a Draco Fleet but a Human SSP Fleet that serves alongside the Draco Alliance) that were not caught outside of the Outer Barrier as well as various other Military Black Ops SSP Program Members. Some of them brought with them time critical and actionable intelligence that was acted on by some of the SSP Alliance Leadership and their new allies without bringing it to the SSP Alliance Council. This resulted in Two Massive Attacks that caused large numbers of innocent deaths. Those who took part in what the Blue Avians called "Atrocities" were unapologetic and stated that it was the cost of war but the collateral damage was regrettable.
It is very significant that Goode's May 30, 2015 revelations of recent space battles overlapped with the introduction into the U.S. Congress of the
original bill
for the National Defense Authorization Act for Fiscal Year 2016, which requested Obama to: "establish an interagency process to develop a policy to deter adversaries in space."
It's worth emphasizing here that at the same time Goode was revealing the military hostilities that had just occurred both on Earth and in Space between different secret space programs, the U.S. Congress was authorizing President Obama to respond to future scenarios not dissimilar to what Goode was saying had already occurred in early 2015.
More recently,
Goode claims
that he received a briefing about a battle fought over Antarctic skies in April 2016, involving an attack on six large "teardrop shaped" cruisers by dozens of smaller "chevron shaped" space craft. He has provided graphic illustrations of both the Antarctic space battle, and of the location of the six bases from which the alleged cruisers launched.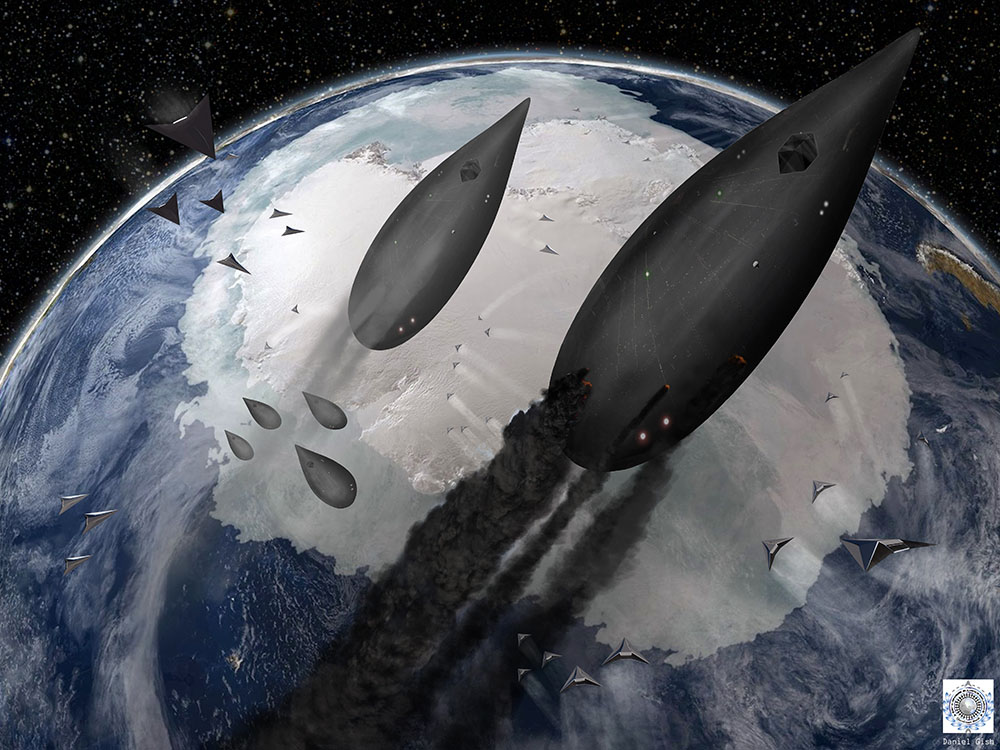 Battle over Antarctica which Goode was briefed about by a Secret Space Program Alliance representative
Related Rescue Mission to Antarctica Sent to Help Wounded Cabal-run Secret Space Program Alliances? | Evidence and Testimony of Space Battles Above the Earth
Goode was uncertain over the origin of the chevron shaped space craft, and referred to speculation among his contacts that they belonged to an "Earth Alliance", comprising "White Hats" from different national militaries such as the BRICS nations of Russia, India, China and Brazil.
Related Cosmic Disclosure Season 4 - Episode 10: The Earth Alliance - Summary and Analysis | Corey Goode and David Wilcock
Goode also said that he was physically taken on a tour of these hidden Antarctic facilities, which he says are jointly run by the Interplanetary Corporate Conglomerate (ICC) and the Dark Fleet. He stated that the six space cruisers belonged to Dark Fleet, which dates its origin to breakaway Nazi groups in Antarctica and South America.
CONTINUE READING @ exopolitics.org
_________________________
Stillness in the Storm Editor's note: Did you find a spelling error or grammar mistake? Do you think this article needs a correction or update? Or do you just have some feedback? Send us an email at sitsshow@gmail.com.
Thank you for reading.
_________

Source:
http://exopolitics.org/obama-report-to-congress-supports-whistleblower-claims-of-secret-space-war/
________________________________________________________________


Sign-up for RSS Updates:
Subscribe in a reader
View and Share our Images.
Curious about Stillness in the Storm?
See our About this blog - Contact Us page.
If it was not for the gallant support of readers, we could not devote so much energy into
continuing this blog. We greatly appreciate any support you provide!
We hope you benefit from this not-for-profit site
It takes hours of work every day to maintain, write, edit, research, illustrate and publish this blog.
We have been greatly
empowered
by our search for the truth, and the work of other researchers. We hope our efforts
to give
back, with this website, helps others in gaining
knowledge, liberation and empowerment.
"There are only two mistakes one can make along the road to truth;
not going all the way, and not starting." - Buddha
If you find our work of value, consider making a Contribution.
This website is supported by readers like you.
[Click on Image below to Contribute]