Related Corey Goode Update Via Michael Salla Part 1 | Secret Space Programs Battle over Antarctic Skies During Global Elite Exodus
Source - Exopolitics
by Dr. Michael Salla
[Continued from
Part 1
] At the same time the Soviet Union had deployed Cosmospheres in the 1970's that competed with the National Reconnaissance Office and USAF for domination of the space around Earth, the U.S. Navy was developing its own secret space program called
Solar Warden
, which used huge cigar shaped spacecraft equipped with antigravity and temporal technology for distant off world operations.
Former aerospace engineer, William Tompkins, has disclosed that he provided the
initial designs
for these kilometer long secret space craft in a secret think tank at Douglas Aircraft Company in the 1950's. According to both Corey Goode and Tompkins, Solar Warden became operational in the 1980's and was highly compartmentalized, and therefore unknown to most USAF Space Command/NRO/Defense Intelligence Agency (DIA) personnel who were told the vehicles in deep space or remote locations like Antarctica they were monitoring were merely prototype craft being tested.
Related William Tomkins Articles and Updates
Goode additionally explains that most NRO/USAF Space Command/DIA personnel are unaware of the
Secret Space Program Alliance
(an alliance between the Solar Warden program defectors from other secret space programs), whose operations Goode has been disclosing since late 2014.
Apparently, some of the intelligence released by Corey Goode over the last 18 months about secret space programs, was accurate enough to come to the attention of the
"lower level secret space program,"
as he described it, run by the NRO/USAF/DIA. Subsequently, he was subjected to a military abduction by one or more of these agencies, which he briefly described in his
May 14 update
:
Military abductions conducted by operatives of one or more unacknowledged programs occur. Chemical interrogation tactics are implemented. Body fluid and hair samples were taken, words and phrases were read off of a tablet to attempt to ascertain if I was a current asset of a known UNSAP [Unacknowledged Special Access Program].
While briefing me on June 15, Goode stated that he experienced a total of three different military abductions on a spacecraft that was clearly less advanced than those belonging to the SSP Alliance. This happened sometime just prior to or during April 2016.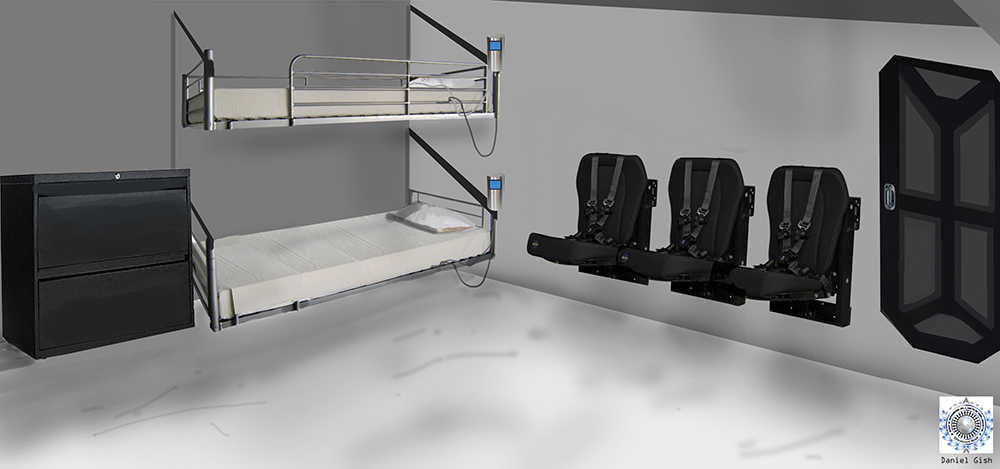 Artist depiction of room in spacecraft where chemical interrogations occurred.
I asked Goode why he wasn't protected by the "Sphere Being Alliance" (advanced extraterrestrials belonging to a Type III civilization), since they had previously intervened during an alleged incident on Mars that he described in a
report back in June 2015
.
Goode said that the Sphere Being Alliance will only intervene when his safety is in serious jeopardy, and not at other times since there are lessons to be learned for all involved. In the case of "negative experiences", he says, these might have a larger purpose such as completing operational goals.
Goode interrogators could not find any information about him in their databases which is not surprising given the level of compartmentalization involved in the different classified programs. He said that all his records were scrubbed upon returning to civilian life in 1986 after being age regressed and sent back in time after he completed his 20 year tour of duty in 2007.
During one of Goode's interrogations, attempts were made to brainwash him into believing that extraterrestrials weren't real and that the "higher level space programs" he was discussing – Solar Warden, Interplanetary Corporate Conglomerate and Dark Fleet – did not exist.
During an interrogation, he
also said
that chemicals were used to get him to involuntarily reveal three high level operatives working within the Secret Space Program (SSP) Alliance:
A tablet with a camera was held in front of my face and academy type military photos were shown to me. The camera monitored my eyes and marked a photograph when it was detected that I recognized the person. This incident caused the outing of 3 high ranking SSP Alliance individuals and caused a further rift between myself, Gonzales and the SSP Alliance. Because of the chemical interrogation and the attempted blank slating of my memories of the incidents, I didn't remember the full details until I was informed later of the security breach.
Related Cosmic Disclosure Season 4 - Episode 3: Age Regression and Time Travel Technology - Summary and Analysis | Corey Goode and David Wilcock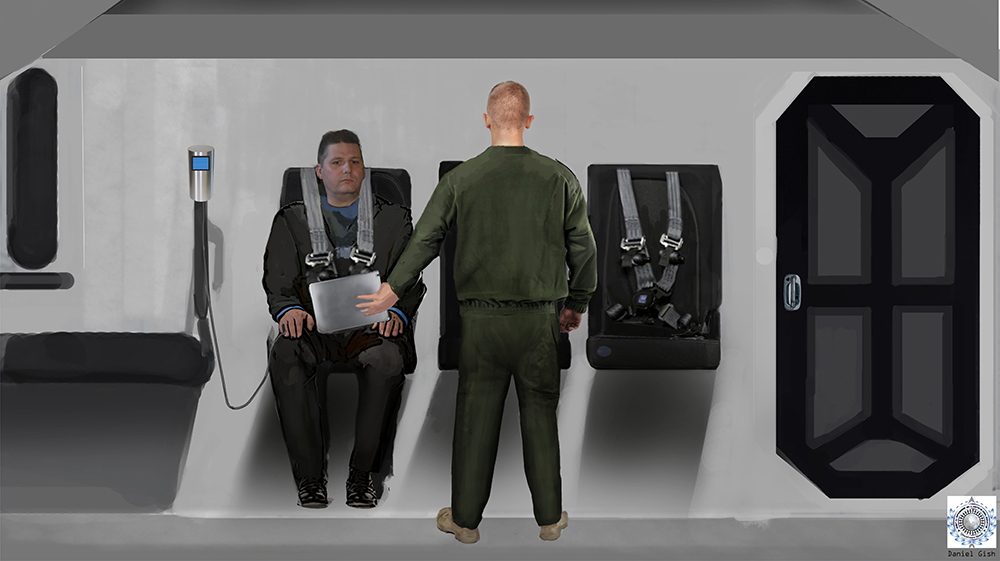 Artistic depiction of Goode under chemical interrogation where he involuntarily outs SSP operatives
One of the outed SSP Alliance individuals has subsequently dissappeared, another has been captured by the "lower level SSP", and the third was Gonzales – Goode's primary contact with the SSP Alliance.
Due to his involuntary 'outing' by Goode, Gonzales had to leave his civilian "cover" identity in Texas, and quickly found refuge with one of the Inner Earth civilizations called the 'Anshar', which he and Goode had previously met with on several occasions.
CONTINUE READING @ exopoltics.org
_________________________
Stillness in the Storm Editor's note: Did you find a spelling error or grammar mistake? Do you think this article needs a correction or update? Or do you just have some feedback? Send us an email at sitsshow@gmail.com.
Thank you for reading.
_________

Source:
http://exopolitics.org/military-abduction-extraterrestrial-contact-treaty-corey-goode-briefing-pt-2/
________________________________________________________________
[Save to PDF or Print]

Print

PDF
Sign-up for RSS Updates:
Subscribe in a reader
View and Share our Images.
Curious about Stillness in the Storm?
See our About this blog - Contact Us page.
If it was not for the gallant support of readers, we could not devote so much energy into
continuing this blog. We greatly appreciate any support you provide!
We hope you benefit from this not-for-profit site
It takes hours of work every day to maintain, write, edit, research, illustrate and publish this blog.
We have been greatly
empowered
by our search for the truth, and the work of other researchers. We hope our efforts
to give
back, with this website, helps others in gaining
knowledge, liberation and empowerment.
"There are only two mistakes one can make along the road to truth;
not going all the way, and not starting." - Buddha
If you find our work of value, consider making a Contribution.
This website is supported by readers like you.
[Click on Image below to Contribute]