The following article discusses the media's false reporting that Vladimir Putin is being named or implicated by the Panama Papers leak.
The first article details the false allegations, with the second covering Putin's response that they are false and an attempt to destabilize Russia.
In truth, only some of Putin's friends were named, but certain news outlets, such as the Guardian are attempting to infer that he was directly involved in wrongdoing.
Here's how the Guardian put it,
"An unprecedented leak of documents shows how this money has made members of Putin's close circle fabulously wealthy."

"Though the president's name does not appear in any of the records, the data reveals a pattern – his friends have earned millions from deals that seemingly could not have been secured without his patronage."

"The documents suggest Putin's family has benefited from this money – his friends' fortunes appear his to spend."
No evidence has surfaced confirming allegations that Putin brokered deals for individuals named.
This smear campaign against Putin, an addition to the lack of discussion regarding US involvement in Mossack Fonseca's shady dealings—of which there are at least 441 unnamed US clients—leads one to suspect that this leak is part of a coordinated attack against certain targets close to power players in the West.
Related Panama Papers Funded by George Soros, David Rockefeller, Ford Foundation, Goldman-Sachs and 441 U.S. Clients of Mossack Fonseca: Who Are They?
There is something else going on with the Panama Papers that will most likely become more obvious as time goes on.
Related The Panama Papers Largest Leak in History | Propaganda, Preparation for Mass Arrests or Evidence of Silent Cold War?
Source - Global Research
By
Stephen Lendman
The International Consortium of Investigative Journalists (ICIJ) calls itself an initiative "focusing on…cross-border crime, corruption, and the accountability of power."
Its financial backers include the Open Society Foundations, the Ford Foundation, Australian billionaire Graeme Wood and other sources.
It was used to facilitate the largest ever financial leak, a reported 11.5 million documents, revealing secret offshore holdings of current and former world leaders, along with numerous other high-profile public and private figures.
The Panama-based Mossack Fonseca law firm is at the heart of the scandal, quietly providing services for high-profile clients, including apparently hiding wealth in tax havens, making money trails murky in the process.
No current or earlier Western leaders or officials so far were named, only UK prime minister David Cameron's father, Ian. Is evidence of their possible tax avoidance, money laundering or other illegal or suspect activities being concealed?
According to Forbes magazine, America had 536 billionaires in 2015, Western European countries hundreds more.
ICIJ revealed information on 140 politicians from over 50 countries with wealth hidden in 21 tax havens. They include "heads of state, their associates, ministers (and) elected officials."
Key national leaders named include Argentine president Mauricio Acri, former Georgia prime minister Bidzina Ivanishvili, Saudi Arabia's king Salman, other current and former Middle East leaders, and US-installed Ukrainian president Petro Poroshenko.
Yet ICIJ's Panama Papers report prominently featured Putin's image, alleging his ties to an "offshore network," despite no evidence suggesting it.
An earlier article discussed a Tax Justice Network (TJN) report, titled "The Price of Offshore Revisited," revealing an estimated $21 – $32 trillion of hidden or stolen wealth stashed in largely tax-free havens secretly.
Wall Street and other major financial firms manage it. Keeping funds hidden tax free attracts rich clients. Services are offered "no questions asked."
Governments are complicit in cover-ups. Societal costs are huge, tax justice entirely absent. Rich, powerful elites operate by different standards than ordinary folks, their wrongdoing ignored.
ICIJ indicated more than 100 "media partners" published or broadcast Panama Papers reports, including the BBC, London's Guardian, and Le Monde, among others.
Nothing links Vladimir Putin to ICIJ revelations. The BBC notoriously bashes him relentlessly, its latest smear alleging his link to "a suspected billion-dollar money laundering ring involving (his) close associates."
London's Guardian went further, yellow journalism at its worst, spuriously alleging "(a) network of secret offshore deals and vast loans worth $2bn has laid a trail to Russia's president, Vladimir Putin."
"An unprecedented leak of documents shows how this money has made members of Putin's close circle fabulously wealthy."

"Though the president's name does not appear in any of the records, the data reveals a pattern – his friends have earned millions from deals that seemingly could not have been secured without his patronage."

"The documents suggest Putin's family has benefited from this money – his friends' fortunes appear his to spend."
No evidence corroborates the Guardian's specious allegations, the latest example of irresponsible Western media Putin bashing.
The Guardian featured in bold letters: "How to hide a billion dollars" accompanied by Putin's image, the implication clear, evidence linking him to possible wrongdoing absent because none exists.
His spokesman Dmitry Peskov said "it's obvious that the main target of (ICIJ's report) is our president," aimed at discrediting him and affecting Russia's stability.
He suggested ICIJ ties to Washington. Its dubious funding sources reveal its intention to smear Vladimir Putin irresponsibly – destroying its own credibility in the process.
Stephen Lendman lives in Chicago. He can be reached at lendmanstephen@sbcglobal.net. His new book as editor and contributor is titled "Flashpoint in Ukraine: US Drive for Hegemony Risks WW III."http://www.claritypress.com/LendmanIII.html
Visit his blog site at sjlendman.blogspot.com. Listen to cutting-edge discussions with distinguished guests on the Progressive Radio News Hour on the Progressive Radio Network.
**
Source - BBC News
President Putin has denied "any element of corruption" over the Panama Papers leaks, saying his opponents are trying to destabilise Russia.
Mr Putin was speaking for the first time since the leak of millions of confidential documents from the Panama-based law firm Mossack Fonseca.
The papers revealed a number of offshore companies owned by close associates of Mr Putin.
They suggest the companies may have been used for money laundering.
Mr Putin, speaking live on TV, said Russia's Western opponents "are worried by the unity and solidarity of the Russian nation... and that is why they are attempting to rock us from within, to make us more obedient".
He said that because they could not find Mr Putin in the Panama papers "they've made an information product".
"They've found a few of my acquaintances and friends... and scraped up something from there and stuck it together."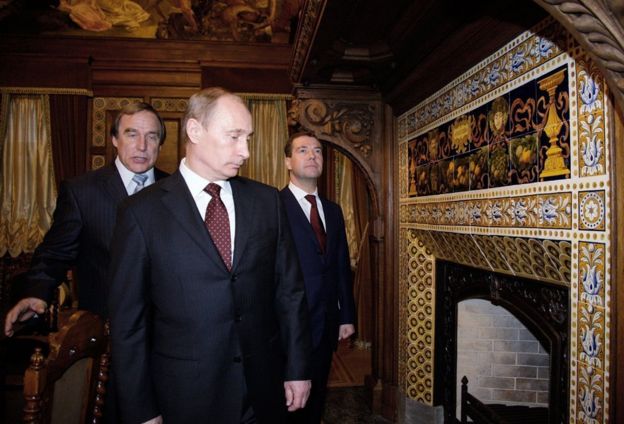 Image copyright AlamyImage captionCellist Sergei Roldugin (left) is a close friend of Vladimir Putin's
The papers name Mr Putin's long-time friend and godfather to his daughter, the cellist Sergei Roldugin, as the owner of two offshore firms, International Media Overseas and Sonnette Overseas.
According to the papers, the firms were involved in a number of suspicious deals, including one in which International Media Overseas received a loan of $6m (£4.2m) in 2007, which was written off three months later for just $1.
Mr Roldugin has not yet publicly commented on the allegations.
Mr Putin did not go into the details of allegations against Mr Roldugin or other Russian offshore interests, but he praised his friend.
He said he was proud of people like Mr Roldugin who he said had spent nearly all the money he had earned on musical instruments and donating money to state institutions.
Several countries are investigating possible financial crimes by the rich and powerful following the Mossack Fonseca leak.
Iceland's prime minister stepped down earlier this week after it was revealed he owned an offshore company with his wife which he did not declare when he entered parliament. He denies any wrongdoing.
The mass leak revealed the extent to which Mossack Fonseca appeared to help some clients evade tax and avoid sanctions, although the firm has denied it has done anything wrong and says the information is being presented out of context.
Panama Papers - tax havens of the rich and powerful exposed
Eleven million documents held by the Panama-based law firm Mossack Fonseca have been passed to German newspaper Sueddeutsche Zeitung, which then shared them with the International Consortium of Investigative Journalists. BBC Panorama and UK newspaper The Guardian are among 107 media organisations in 76 countries which have been analysing the documents. The BBC does not know the identity of the source
They show how the company has helped clients launder money, dodge sanctions and evade tax
Mossack Fonseca says it has operated beyond reproach for 40 years and never been accused or charged with criminal wrongdoing
Tricks of the trade: How assets are hidden and taxes evaded
Panama Papers: Full coverage; follow reaction on Twitter using #PanamaPapers; in the BBC News app, follow the tag "Panama Papers"
Watch Panorama on the BBC iPlayer (UK viewers only)
_________
Sources:
http://www.globalresearch.ca/secret-offshore-money-fabricated-putin-link-to-leaked-panama-papers/5518562
http://www.bbc.com/news/world-europe-35989560
Image Source -
http://s.newsweek.com/sites/www.newsweek.com/files/2015/04/01/putin_0.jpg
Image Source -
http://ichef.bbci.co.uk/news/660/cpsprodpb/7F18/production/_89063523_panama_index_draft2.jpg
________________________________________________________________
Sign-up for RSS Updates:
Subscribe in a reader
View and Share our Images.
Curious about Stillness in the Storm?
See our About this blog - Contact Us page.
If it was not for the gallant support of readers, we could not devote so much energy into
continuing this blog. We greatly appreciate any support you provide!
We hope you benefit from this not-for-profit site
It takes hours of work every day to maintain, write, edit, research, illustrate and publish this blog.
We have been greatly
empowered
by our search for the truth, and the work of other researchers. We hope our efforts
to give
back, with this website, helps others in gaining
knowledge, liberation and empowerment.
"There are only two mistakes one can make along the road to truth;
not going all the way, and not starting." - Buddha
If you find our work of value, consider making a Contribution.
This website is supported by readers like you.
[Click on Image below to Contribute]