This is one more data point of soft disclosure hitting the mainstream. The old paradigm belief that earth is the only planet with living organisms has been disproven with recent discoveries. The following article provides evidence that microbial life is most likely flourishing in space.
This is known as Panspermia theory, where life exists everywhere it can. But what makes this recent disclosure so important is it opens our minds to what conditions life can exist in. Previously we though that life could only thrive within very specific conditions, such as
the so-called goldilocks zone. But it appears that our limited definition of life is hardly adequate to account for the well nigh infinite diversity existing in the cosmos.
Researchers such as David Wilcock, have compiled a breath taking amount of scientific data supporting the emergence of life via energetic processes.
Related Science and Evidence For The Transformation of the Solar System | The Divine Cosmos by David Wilcock
Furthermore, it appears that the Electric Universe theories are correct in saying space is organized within highly coherent fields of electromagnetic energy. These fields provide the energetic backdrop where life springs into being.
Related Living Cells Are Electromagnetic Units - A Foundation For Understanding Energetic Shifts within the Body, Mind and Planet
The Earth and planetary bodies in general, seem to provide a point of focus for these cosmic energies to develop life on and within them. The Schumann Resonances are electromagnetic harmonics created by solar and galactic interactions, as they coalesce around a sphere. Presumably any spherical body can also create their own life imparting harmonic fields.
Related What Is The Schumann Resonance? | The Science of: Tesla, Free Energy, "Storms of Life", Scalar or Standing Waves, Energetic Evolution & Interconnectedness
In episode 9 of Cosmic Disclosure, Corey Goode and David Wilcock, discuss the Electric Sun and universe, describing how the entire creation is connected via energy fields. Goode describes this as the Cosmic Web.
Related Summary and Analysis of Cosmic Disclosure Episode 9: Electric Sun | Corey Goode and David Wilcock
The dogma of mainstream science will eventually finish collapsing under the weight of these more accurate theories. We are at a critical time in history, one navigated more easily by open mindedness and a willingness to seek beyond the confines of what we deem as possible.
Source - Exopolitics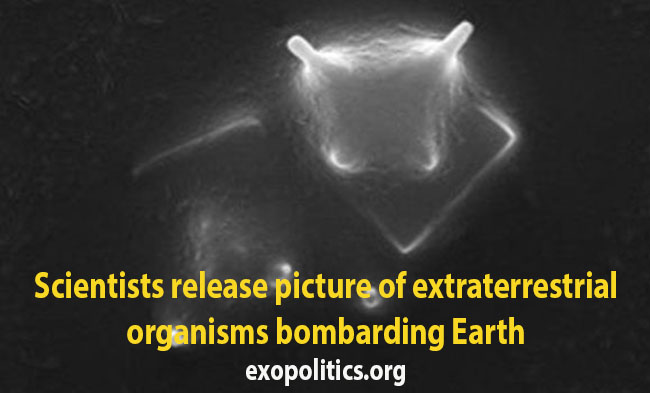 Scientists from the University of Buckingham have released a picture of an extraterrestrial from deep space that is bombarding the Earth. No, it's not part of an extraterrestrial invasion. Rather, it is evidence supporting the theory of panspermia, in which microscopic life forms exist in the vacuum of space, and can seed life by arriving in great numbers on habitable planets like the Earth.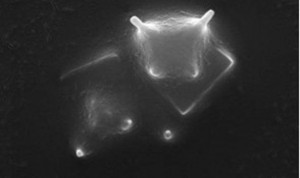 Alien Organism Discovered by University Buckingham scientists
A team of scientists, including Professor Milton Wainwright, from the University of Buckingham Centre for Astrobiology, have conducted scientific tests in the stratosphere. These show that organisms not found on the Earth are arriving from outer space.
Professor Wainwright claims the results prove that life exists outside the Earth. In an interview with Britain's Express newspaper,
he said
:
Our team has caused quite a stir over the last couple of two years by claiming these microbes are continually arriving to Earth from space. Our critics have been vocal in dismissing our work but, as yet, no one has provided a viable alternative explanation for our peer reviewed work…. As far as we can tell the particle has no relation to anything found on Earth.
In addition to the microbial life arriving from outer space, Professor Wainwright also revealed that heavy elements were found in the stratosphere. This suggests that these are extraterrestrial arrivals, as well, rather than material being carried up into the stratosphere by winds:
This latest launch is also exciting because the team has found particles containing, so-called, rare earth elements at a height close to 30 kilometres in the stratosphere. These particle masses are too big to have been carried up from Earth and, like the alien life forms we find, must be incoming to Earth from space.
The pictures of extraterrestrial microbes released by Wainwright's scientific team supports an earlier finding by Russian scientists.
On Aug 19, 2014,
ITAR-TASS
reported that Russian scientists had found microbial life, similar to sea plankton, on the surface of the International Space Station (ISS). The Russians first detected the microbes over a year earlier and confirmed that these organisms can live in zero gravity within the extremely low temperatures and cosmic radiation. Despite the harsh conditions, the scientists reported that the bacteria were thriving on the surface of ISS and could live there for years.
The Russian discovery is startling since it confirms that extraterrestrial microbes can flourish in deep space. Vladimir Solovyev, chief of the Russian ISS orbital mission
said
:
Results of the experiment are absolutely unique. We have found traces of sea plankton and microscopic particles on the illuminator surface. This should be studied further.
NASA's reaction to the startling Russian discovery was silence. This lack of reaction supports the
claims of Richard Hoover
, a veteran 46 year NASA astrobiologist, who says the civilian U.S. space agency is willfully ignoring clear evidence of extraterrestrial life.
CONTINUE READING @ exopolotics.org
_________

Source:
________________________________________________________________
Sign-up for RSS Updates:
Subscribe in a reader
View and Share our Images.
Curious about Stillness in the Storm?
See our About this blog - Contact Us page.
If it was not for the galant support of readers, we could not devote so much energy into
continuing this blog. We greatly appreciate any support you provide!
We hope you benefit from this not-for-profit site
It takes hours of work every day to maintain, write, edit, research, illustrate and publish this blog.
We have been greatly
empowered
by our search for the truth, and the work of other researchers. We hope our efforts
to give
back, with this website, helps others in gaining
knowledge, liberation and empowerment.
"There are only two mistakes one can make along the road to truth;
not going all the way, and not starting." - Buddha
If you find our work of value, consider making a Contribution.
This website is supported by readers like you.
[Click on Image below to Contribute]