Source - Redefining God
With just a week to go until the September FOMC meeting, all eyes are on the Fed and their interest rate decision. So what will she say this time?…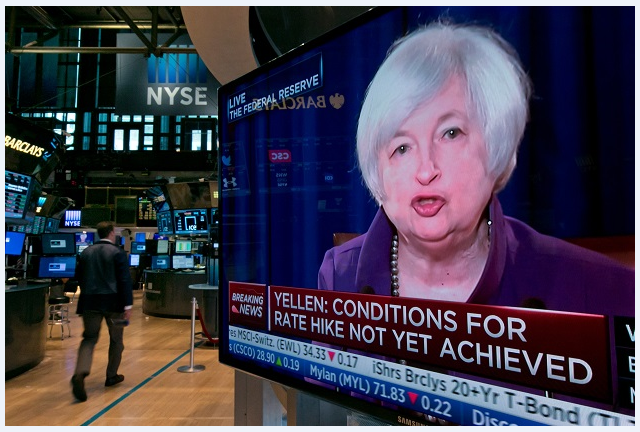 On the "no, they won't hike" side of the argument, we've seen the globalists delay a whole series of things they had planned for this year…
…so it is conceivable that they'll delay the rate hike also.
But on the "yes, they will hike" side of the argument,..
> We are hearing the "Fed mistake" language I've been warning about for so long…

…from
Zero Hedge
So as we proceed through this month, it is useful to track the rate hike and the government shutdown together. If the Fed delays the rate hike next Thursday, you can expect to see a Congressional agreement on a stopgap funding measure to keep the government going for a few more months. If, on the other hand, the rate is hiked, the government will definitely shut down as well.
(P.S. – 10 September 2015)
– For those of you wondering why I've suddenly taken on the task of dismantling the Christian religion, it all has to do with the
Obama and the 2nd Coming
article I recently wrote. If the globalists really are batsh*t crazy enough to stage a Second Coming to install a One World Dictator, it is imperative to destroy the Christ myth they will use to give him cover.
The difficult thing about fighting the globalist agenda is that they are great contingency planners. Whenever you move to block one of their plans, they always have fallback plans they can activate to keep moving forward. If you think about it, pursuing their agenda is much like taking a road trip from Point A in New York to Point B in Los Angeles: there are a million different ways to get from Point A to Point B, so if you try to block the road they're traveling on, they can simply change roads and keep on truckin'. The one thing they can't change, though, is their destination. So if you build a fence around Point B, they can't reach their destination regardless of which route they take.
For the globalists, it appears that their "Point B" might be installing a theocratic world leader clothed in the myth of Christ. So if we can shred the myth of Christ before they can put forward their leader, we have denied them their destination. You can't put a wolf in sheep's clothing if the sheep costume has been shredded beyond repair. Everyone will see the wolf for what he is. And this is why I've taken on this new subject.
If any of the historical accounts are to be believed, Christianity was just another insignificant cult before the Occulted Powers of ancient Rome decided to use it as a universal religious control mechanism for their Empire. It was they who codified it, made it mainstream, and spread it around the world. And it is they who will attempt to bring the prophecies (along with their dreams of worldwide dominion) to fruition. But like any other big lie, the Christ myth is ever-teetering on the brink of implosion. To knock it down, you just have to know exactly how and where to hit it.
For the previous updates from this series, click
here
.
With love…
_________

Source:
________________________________________________________________
Sign-up for RSS Updates:
Subscribe in a reader
View and Share our Images.
Curious about Stillness in the Storm?
See our About this blog - Contact Us page.
If it was not for the galant support of readers, we could not devote so much energy into
continuing this blog. We greatly appreciate any support you provide!
We hope you benefit from this not-for-profit site
It takes hours of work every day to maintain, write, edit, research, illustrate and publish this blog.
We have been greatly
empowered
by our search for the truth, and the work of other researchers. We hope our efforts
to give
back, with this website, helps others in gaining
knowledge, liberation and empowerment.
"There are only two mistakes one can make along the road to truth;
not going all the way, and not starting." - Buddha
If you find our work of value, consider making a Contribution.
This website is supported by readers like you.
[Click on Image below to Contribute]