Dr. Salla summarized some of the key points in the 5th episode of Cosmic Disclosure with Corey Goode and David Wilcock. Here is a highlight:
"What I found most valuable in this Cosmic Disclosure episode was Goode's revelation about superwaves and how both secret space programs and the Sphere Being Alliance became aware of these decades ago. According to a July 18 statement by Goode, the giant spheres belonging to the Sphere Being Alliance have nearly completed their primary purpose and will soon leave. This suggests that we will very soon be experiencing the full force of these superwaves that will bring out the best or worst in all humanity depending on how well prepared we are. This episode will help the viewer appreciate the importance of taking firm steps to prepare for superwave related events that secret space programs have themselves been silently preparing for over several decades now."
Related The Ra Material and The Secret Space Program | Required Science Described by The Law of One and Dewey B. Larson
We have offered some analysis of the Law of One material and related science in several posts linked herein. It's important to remember that we can discuss the ideas offered in these topics without accepting them unquestionably. Discernment is a process of placing data in its proper context, not dismissing or accepting something wholesale without supportive evidence in either instance.
Related The Natural Law Basis of Harvest | The Spiritual Evolution of Gaia and All Who Dwell In the System of Sol
That being said, there is a large amount of data to support the notion our solar system is changing and the resulting shifts in the heavens greatly affect life on Earth. Our connection to the Earth, Sun and Galaxy is profound, yet modern science has all but dismissed the long held beliefs of ancient peoples.
Related All Life is Connected via EMF Entrainment | Solar Revolution Documentary (2012) - Reveals the Science of Entrainment, along with the Sun and Galaxies Influence on Human Affairs
Whether or not Corey's narrative as it relates to the secret space program and ET contact is accurate remains unclear. But we can contemplate what is being shared ideationally on its merits alone, and that process will yield deeper understanding of who we are and what our place in the cosmos is.
Related David Wilcock and Corey Goode June 28th OYM Radio Transcript and Notes: ET Alliance, Consciousness Evolution, Disclosure Event, Energetic Ascension, Cabal Take-down & More
And if this is yet one more grand illusion pushed by our would-be masters, we will be more able to recognize it for what it is once a personal approach to understanding the data discussed is taken up. In this way all information has value, once it is properly discerned for the context for which it applies.
Source - Exopoltics
SECRET SPACE PROGRAMS MONITOR GALACTIC SUPERWAVES & STUDY LAW OF ONE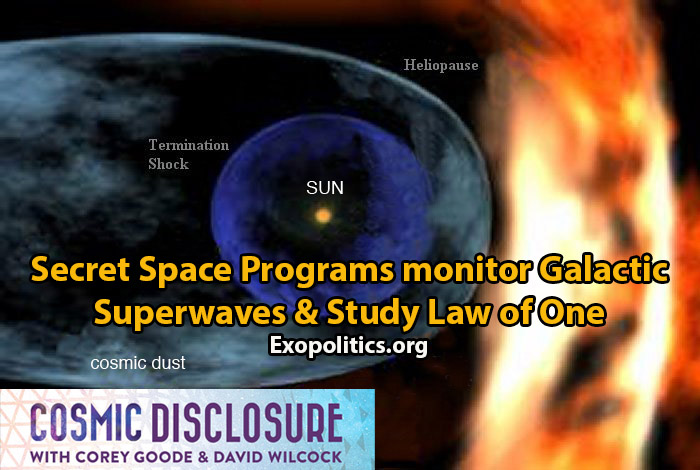 In the
fifth installment
of the Cosmic Disclosure Gaiam TV series, whistleblower Corey Goode reveals how secret space programs he worked with from 1987-2007 had become aware of regions of the galaxy with "superwaves" that would eventually be encountered by our solar system. It was discovered that the superwaves were made up of clouds of "vibrating energy particles" that would impact the sun, earth and humanity in ways leading to profound changes. Human consciousness itself would be directly impacted and would lead either to our rapid evolution into an advanced global society, or global self-destruction as apparently had happened in the past.
Goode says that in the late 1980's giant spheres first began appearing in our solar system that were also interested in the superwave phenomenon. These spheres remained in an observational mode until 2011 when they became operational. The spheres ranged in size from the diameter of the moon to that of Jupiter. They were strategically placed to act as "resonance buffers" of galactic superwaves so the sun, and humanity, would not be overwhelmed as our solar system progressively entered into the affected region of the galaxy.
Related The Energetic Evolution of The Solar System | At the Earth's Core: The Geophysics of Planetary Evolution
Goode's revelation that galactic superwaves were secretly discovered and studied is stunning confirmation for the work of astrophysicist Dr Paul LaViolette who has predicted galactic superwaves eventually impacting our solar system. In his 2006 book
Decoding the Message of the Pulsars,
Dr LaViolette describes pulsars strategically placed in the galaxy that transmitted warnings about these superwaves that are generated out of the galactic core in cycles spanning from 10,000 to 16,000 years. LaViolette speculates that these pulsars were built by a very advanced Type III extraterrestrial civilization – one that understood how galactic superwaves operated, and their potential impact on solar systems and worlds. A type III civilization on the
Kardashev scale
is one that works with galactic scale levels of energy, while a Type II civilization can do the same at a stellar level, while a Type I civilization can do similarly at a planetary level. This suggests that those responsible for the giant spheres in our solar system – the Sphere Being Alliance – are at the very least a Type III civilization.
In the rest of the Gaiam TV interview with David Wilcock, Goode described the evolution of consciousness and how the "Law of One Material" is essentially correct in affirming the underlying unity of consciousness and all life. Goode has previously revealed that the Law of One Material is required reading for a many groups in the secret space programs.
CONTINUE READING @ exopoltics.org
_________

Source:
http://exopolitics.org/secret-space-programs-monitor-galactic-superwaves-study-law-of-one/
________________________________________________________________
Sign-up for RSS Updates:
Subscribe in a reader
View and Share our Images.
Curious about Stillness in the Storm?
See our About this blog - Contact Us page.
If it was not for the galant support of readers, we could not devote so much energy into
continuing this blog. We greatly appreciate any support you provide!
We hope you benefit from this not-for-profit site
It takes hours of work every day to maintain, write, edit, research, illustrate and publish this blog.
We have been greatly
empowered
by our search for the truth, and the work of other researchers. We hope our efforts
to give
back, with this website, helps others in gaining
knowledge, liberation and empowerment.
"There are only two mistakes one can make along the road to truth;
not going all the way, and not starting." - Buddha
If you find our work of value, consider making a Contribution.
This website is supported by readers like you.
[Click on Image below to Contribute]