The energy waves streaming into the solar system have been up stepping consciousness for some time. According to Corey Goode, the Sphere Beings use their massive spheres to dampen this energy, providing for an easier transition. Recently Goode stated that this dampening phase is coming to an end, and we will see a sharp increase in 'trigger events' coming in with more regularity. Everyone's comfort zone is going to shrink and this will provide a way for consciousness evolution to ramp up. Goode did not say that September was going to be when the shift occurs.
Related Sphere's Have Slowed Down Energy Difussion, Trigger Events To Come, Cosmic Initiation Into Higher Consciousness | Corey GoodETxSG
These cosmic energies affect the material, mindal and spiritual realms simultaneously, each phase of our collective reality will be affected. This will upturn aspects of ourselves that are hidden, so we can reconcile and move forward. The economic situation does seem to be matching the predictions laid out for this year in connection to the blood moon prophecies.
Related Blood Moon Tetrad Suggests World Changing Events for 2015? | Let This Be Our Year For Change
But there is nothing to fear as these changes are that which will till the fields for what is to come. We can't move forward as a people until we have looked long and hard in the mirror. This cosmic initiation will destroy the falseness of our age, and reveal the missteps of the past. Those who identify with what was will feel increasing chaos, and with it the possibility of something new.
Source - Exopolitics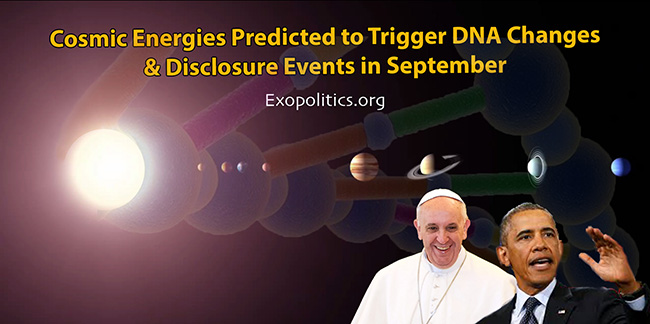 According to independent sources, the Earth is moving into a region of the galaxy that is leading to increasing cosmic energies impacting our sun and altering human DNA. It is predicted this will lead to many changes in human society including major disclosures of advanced technologies, secret space programs and extraterrestrial life.
… an acceleration and heightening of electromagnetic energy from the sun and other cosmic energies that will build especially from late August into late September that will cause, circa 23rd-24th September, what he describes as a 'frequency shift' in consciousness.
He refers to
evolutionary changes emerging from world shaking disclosures as a result of the incoming cosmic energy he describes as a 'Wave X':
.. a "wave of evolution. What we're about to find out on a major level, unheard of in history at a mass scale is the true answer of 'Who are we?', 'Where do we come from?', and 'What is our purpose?'. The planet is going to take off in such an incredible ways."
Related Earthing Restores the EM Fields in the Body | Earthing Science (Entrainment) and Health Effects: Earthing can reduce inflammation and Produces Unique Electrical Function In Brain & Muscles
According to Dr Atkins
, the Jade Helm exercise that began on July 15 and runs to September 15, is really aimed at gaining intelligence about the effects of the incoming cosmic energies in order to better manage the changes it triggers in humanity:
Simon states that this exercise is very much connected to the frequency shift whereby the lower states where the exercises are being carried out will be experiencing a higher frequency field in July and August – the purpose being of learning from and managing the resultant effects on the population there before it heightens further in the upper states into September.
If Dr Atkins is correct, then the U.S. intelligence community is aware of the potential effects of the incoming cosmic energies and is taking steps to manage this. The U.S. intelligence community is very likely not the only global entity aware of the incoming cosmic energies that is taking steps to manage this.
Dr Atken's prediction that a frequency shift will occur in the 23-24 September time frame is very significant. This is also the time that
Pope Francis will be meeting
with President Obama at the White House (Sept 23) and speaking before the U.S. Congress (Sept 24). To cap it all off, Pope Francis will address a gathering of world political leaders at the UN General Assembly on Sept 25. The Vatican's own intelligence service is also very likely aware of these incoming cosmic energies. It's more than coincidental that at the same time that incoming cosmic energies are predicted to peak on the planet, that the world's most powerful religious and political leaders meet. The Vatican appears to be aware of incoming cosmic energy and the powerful transformative effect it will have on humanity, and is placing itself to ride the cosmic wave so to speak.
For a number of years now, Vatican astronomers have been at the forefront of scientific speculation about the discovery of extraterrestrial life. Astronomers such as Guy Consolmagno (a Jesuit like Pope Francis) have been preparing the way with bold statements about baptizing extraterrestrials and its compatibility with Catholic theology. Consolmagno has been working closely with the U.S. scientific establishment such as NASA and the Library of Congress where
he discussed baptism
of extraterrestrial life. On Oct 27, 2014, Pope Francis
released a statement
where he referred to "beings of the universe" (extraterrestrials) as a major part of God's evolutionary plan. If it was disclosed that extraterrestrials, rather than an all-powerful God, were the creators of humanity through advanced genetics, the Pope could now simply claim that this is part of God's plan and not a major concern for the religious community.
Another independent source is also claiming that incoming cosmic energies are having profound effects on human DNA and will trigger major disclosures. Corey Goode claims to have worked for secret space programs from 1987-2007, and more recently having been appointed as a delegate to a group of extraterrestrials called the Sphere Being Alliance.
According to Goode
, the Sphere Being Alliance showed up some time around 2012-2013 with huge Neptune sized spheres that formed frequency shields around the solar system and the sun. One of the major functions of these spheres was to
regulate the amount
of cosmic energy coming into our solar system and the Earth so humanity could better integrate it and prepare for major changes:
The Sphere Alliance has been mostly focused on the energetic changes occurring in our local star cluster because of the area of the Galaxy they are entering. They have been using the many thousands of cloaked spheres that are equidistantly spread out across our Sol System and neighboring Sol Systems (Electrically Connected in the "Cosmic Web" and Natural Portal System) to buffer and diffuse incoming tsunami waves of highly charged energy that changed the vibratory state of space/time, energy and matter to cause it to raise to a higher state in the "Density Spectrum".
CONTINUE READING @ exopolitics.org
_________

Source:
http://exopolitics.org/cosmic-energies-predicted-to-trigger-dna-changes-disclosure-events-in-september/
________________________________________________________________
Sign-up for RSS Updates:
Subscribe in a reader
View and Share our Images.
Curious about Stillness in the Storm?
See our About this blog - Contact Us page.
If it was not for the galant support of readers, we could not devote so much energy into
continuing this blog. We greatly appreciate any support you provide!
We hope you benefit from this not-for-profit site
It takes hours of work every day to maintain, write, edit, research, illustrate and publish this blog.
We have been greatly
empowered
by our search for the truth, and the work of other researchers. We hope our efforts
to give
back, with this website, helps others in gaining
knowledge, liberation and empowerment.
"There are only two mistakes one can make along the road to truth;
not going all the way, and not starting." - Buddha
If you find our work of value, consider making a Contribution.
This website is supported by readers like you.
[Click on Image below to Contribute]