Dr. Salla prepared an excellent write-up leading credence to several whistleblowers discussing the existence of production facilities on Mars and a secret space program.
This paragraph sums up the article nicely:
Currently, the Space Resource Exploration and Utilization Act has moved to the full House of Representatives for debate and a vote at its next legislative session, while the Senate will follow soon after with its own version of the bill. It appears more than coincidental that at the same time as accusations of slave labor being used at off-world mining operations are being secretly investigated for possible criminal prosecution, that the U.S. Congress is in the midst of passing legislation that would effectively provide legal protection to corporate officials responsible for such crimes.
Related Big Update: ICC Mars Colony Conference Report June 20th, World Shattering Disclosure for Mars Colonists, 'Divergent' Type Conditions | Corey GoodETxSG
Related Wednesday, June 24, 2015 Major Soft Disclosure | Think Tank Discusses How To Restore Justice On Earth or Outer Space? - How to Overthrow a Martian Dictatorship
Source - Exopolitics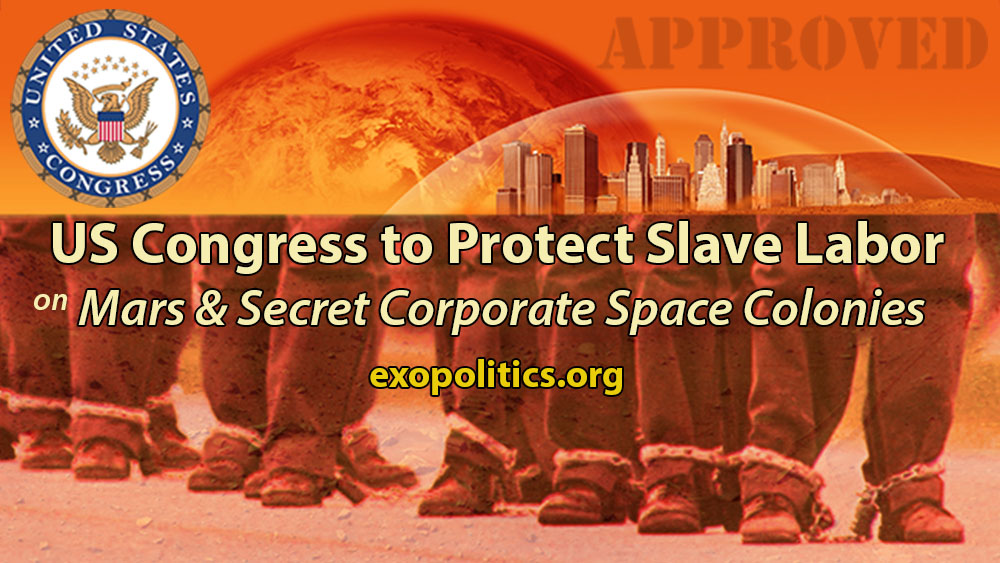 On June 15, the U.S. House of Representatives took a major step in passing a bill that provides legal protection to space mining by U.S. based corporations that establish off-world operations. While most members of the House's "Science, Space and Technology Committee" that
passed the bill
may have done so with the impression that they would protect the rights of U.S. companies in future space mining missions, they instead have provided legal protection to corporations that have been secretly conducting such operations for decades. This is especially significant given
recent claims
that off-world space mining by U.S. affiliated corporations have used slave labor on Mars and elsewhere in our solar system.
The bill, "H.R.1508: Space Resource Exploration and Utilization Act of 2015," was introduced and referred to the Science, Space and Technology Committee by a bipartisan group of eight members on March 19, 2015. On June 15, after an 18-15 vote two days earlier in favor of amending the bill, it was
officially sent
to the full House for a vote in an upcoming session. An identical bipartisan bill
has been introduced
into the Senate by Senators Marco Rubio (R-FL) and Patty Murry (D-WA).
The Space Resource Exploration and Utilization Act ostensibly protects the rights of mining companies willing to invest significant financial resources in future space exploration. If, for example, a mining company establishes a base on Mars, then it would have the right to exploit the resources of Mars and be protected under U.S. Federal Law. Here is what the proposed Act has to say in
Section 51302
:
(a) Commercialization of space resource exploration and utilization
(1) IN GENERAL – The President, acting through appropriate Federal agencies, shall— facilitate the commercial exploration and utilization of space resources to meet national needs;
This clause raises the possibility that under U.S. "national needs" the President of the United States can provide resources and assistance to mining companies to establish off-world bases and mining. There is nothing particularly alarming here at the prospect of companies such as SpaceX being given assistance to plan future Mars missions that establish mining bases to fund themselves. Back on November 16, 2012, SpaceX founder
Elon Musk announced
his plans to build a colony of 80,000 people: "At Mars, you can start a self-sustaining civilization and grow it into something really big."
The
next clause
of the Space Resource Exploration and Utilization Act does raise some disturbing issues however:
(2) discourage government barriers to the development of economically viable, safe, and stable industries for the exploration and utilization of space resources in manners consistent with the existing international obligations of the United States;
What exactly does "discourage government barriers" mean? That appears to be short hand for saying that any government regulations are unnecessary and could be a significant impediment for profitable mining operations. For example, if the mining company was to exploit workers in slave-labor like conditions, this would be a problem for the mining company to resolve, rather than federal regulators imposing U.S. labor standards.
(3) promote the right of United States commercial entities to explore outer space and utilize space resources, in accordance with the existing international obligations of the United States, free from harmful interference…
What does "free from harmful interference" mean? In the case of a mining corporation imposing slave labor working conditions, this clause suggests that international organizations such as the International Criminal Court would not have the power to directly intervene. Basically, managers at prospective space mining operations would be protected under U.S. Federal Law from international organizations investigating them for using slave labor.
Finally, the Space Resource Exploration and Utilization Act specifies the U.S. district courts as having "
Exclusive Jurisdiction
":
Exclusive Jurisdiction: The district courts of the United States shall have original jurisdiction over an action under this chapter without regard to the amount in controversy.
Basically, this means that any human rights issues arising in the mining operations of corporations with off-world bases would have to be addressed through U.S. district courts.
The Space Resource Exploration and Utilization Act raises some very troubling legal issues about future mining operations by U.S. based mining corporations. However, rather than a hypothetical legal problem to be debated by space law attorneys, there is testimonial evidence that space mining operations already secretly exist. Furthermore, it has been claimed that these mining operations use slave labor on Mars and other locations in the solar system.
_________

Source:
http://exopolitics.org/us-congress-to-protect-slave-labor-on-mars-corporate-space-colonies/
________________________________________________________________
Sign-up for RSS Updates:
Subscribe in a reader
View and Share our Images.
Curious about Stillness in the Storm?
See our About this blog - Contact Us page.
If it was not for the galant support of readers, we could not devote so much energy into
continuing this blog. We greatly appreciate any support you provide!
We hope you benefit from this not-for-profit site
It takes hours of work every day to maintain, write, edit, research, illustrate and publish this blog.
We have been greatly
empowered
by our search for the truth, and the work of other researchers. We hope our efforts
to give
back, with this website, helps others in gaining
knowledge, liberation and empowerment.
"There are only two mistakes one can make along the road to truth;
not going all the way, and not starting." - Buddha
If you find our work of value, consider making a Contribution.
This website is supported by readers like you.
[Click on Image below to Contribute]